Besides being an ancient city with various archaeological and natural beauties, Athens is a city that offers great shopping malls, too. Malls in Athens are distributed to many areas inside the city. Ermou Street, Plaka, Monastiraki, Kolonaki, Kifisia, Glyfada, and Euripidou are some of these areas. There, you can find both colorful and affordable shops.
Shopping malls in Athens ensure that you'll find what you look for: boutiques, fashion stores, and department stores are all at your service. Furthermore, you can easily buy things at a discount because the sellers usually help you with this. And usually, during sales seasons, prices are quite favorable. The shopping areas also provide you with local and stylish products as well.
Usually, malls in Athens are open between Monday and Friday from 10 a.m. to 9 p.m. On Saturday, they are open from 10 a.m. to 8 p.m. Usually, only restaurants, cafes, and cinemas are open on Sunday.
Let's begin to discover the best shopping malls in Athens.
Golden Hall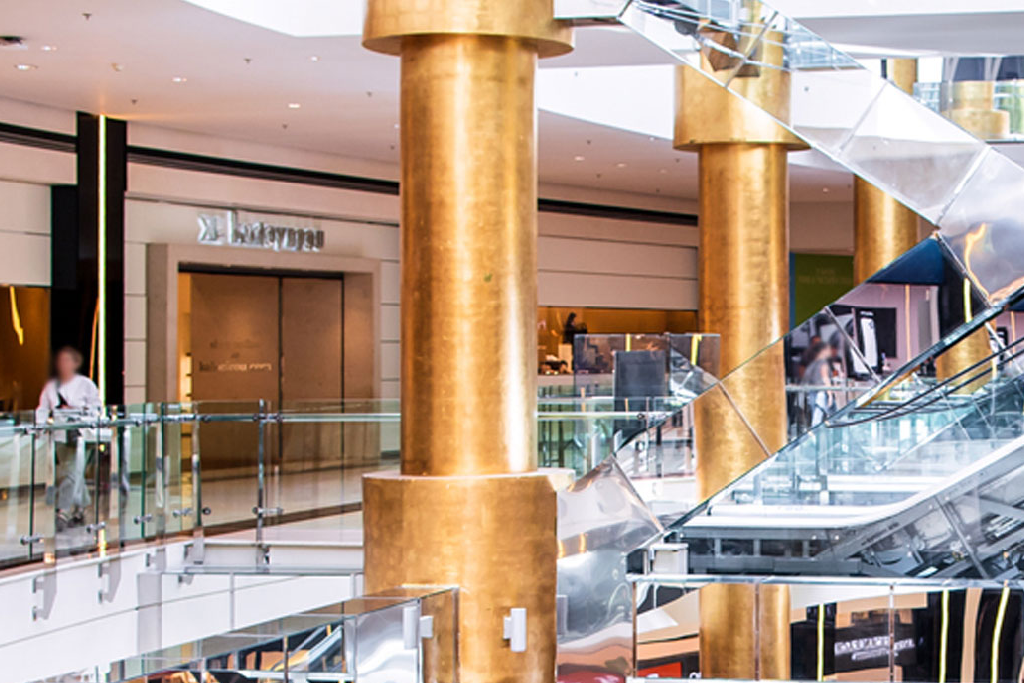 Golden Hall is a shopping mall Athens near the city center. It's located before the Olympic stadium on Kifisias Avenue. You can reach there within 20 minutes by car. The buses Α7, Ε14, Χ14, and 550 also go there. Here in this shopping mall, there are restaurants, cafes, and more than 110 shops. The high ceilings and mirrors make the place look like spacious place.
You can also find something for your kid's interest. There are many chi-chi boutiques available in this mall Athens. Ben & Jerry's and the Lego play station are other fun options for the children. By the way, you can borrow a stroller at the entrance on the ground floor. It's free.
For food, you can choose to try Wagamama on the top floor. It offers Asian flavors such as ramen, sushi, and Thai salads.
Address: 37A Kifisias Avenue, Marousi, 151 23
The Mall Athens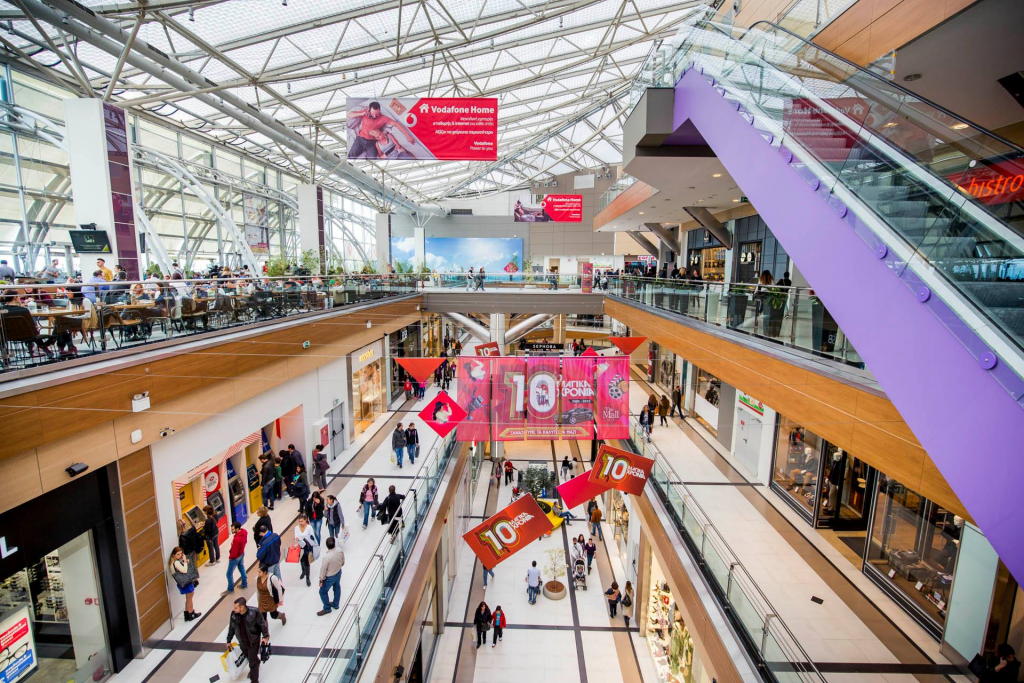 The Mall Athens is a popular shopping center in the city. It's located in Attica, in the north of Marousi. You can do both shopping and entertainment in this Athens mall. Also, you can eat food in many restaurants as well. There are ten movie theaters to go to and several places to eat lunch and drink coffee. The cafes on the top floor have a view of the Olympic stadium. For entertainment purposes, you can play bowling or join a car race with children. For kids, the Confuzio toy emporium and a Lego Play Factory are available in the mall as well. On Saturday, it's quite crowded because many locals go there to shop at stores.
You can reach the mall by train: hop off at the train stop called Neratziotissa.
Address: 35 Andrea Papandreou, Marousi 151 22
Athens Metro Mall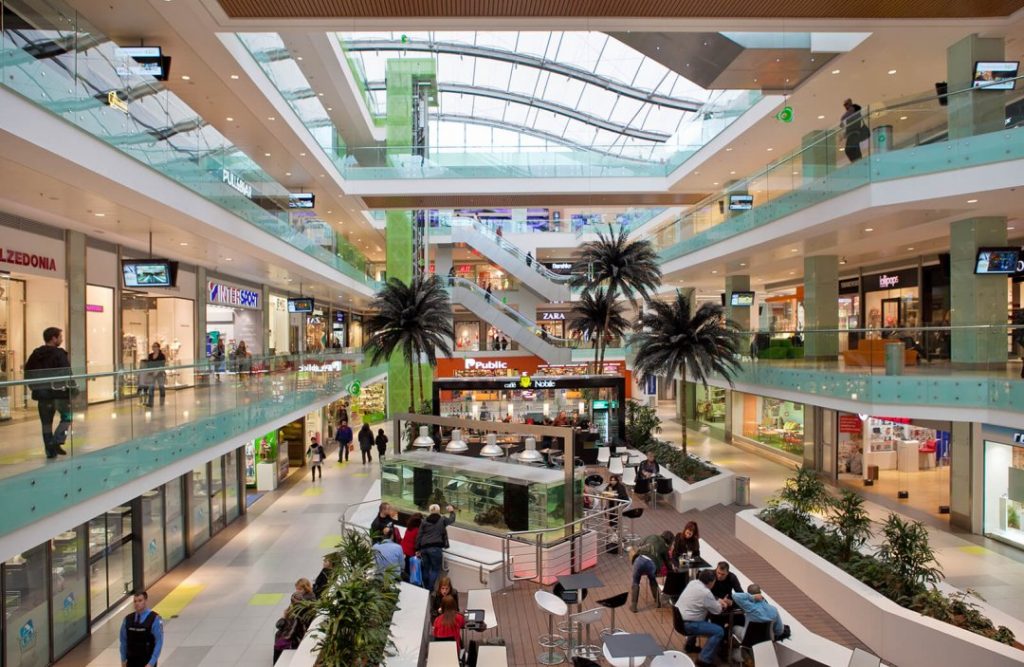 Athens Metro Mall takes place next to Agios Dimitrios metro station. Popular brands like Oysho, Zara Home, and Toi et Moi are available in the mall. You can enjoy coffee at Flocafe Expresso Room on the roof garden with a great view.
Children can enjoy their time at Volta Fun Town which takes place on the second floor. It has both indoor and outdoor areas. You can also take your kids to the Metro Mall cinema to watch movies.
You can reach the mall via the metro. Take the red metro line in the direction of Elliniko. From Syntagma, it takes six stops.
Address: 276 Vouliagmenis Avenue, Agios Dimitrios, 173 46
McArthur Glen & Smart Park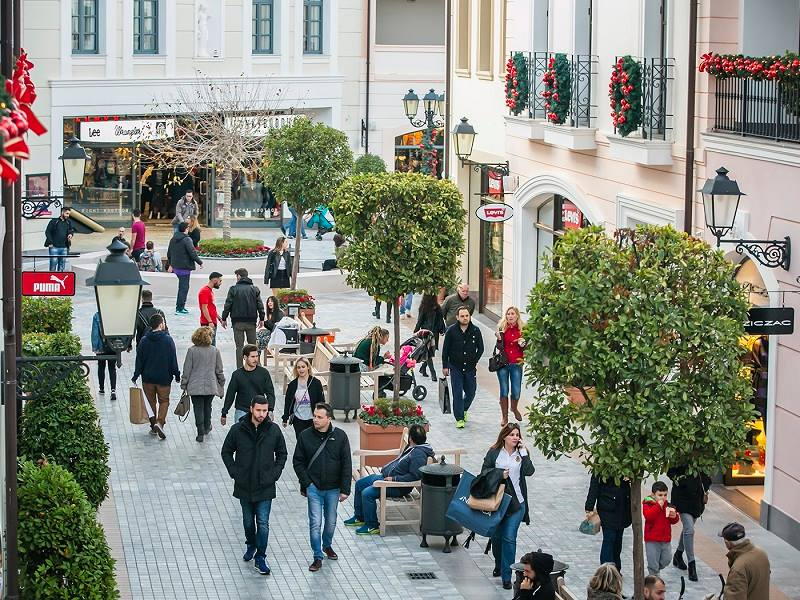 McArthur Glen is a popular outlet place. In fact, it's the first outlet established in Greece. McArthur is an outlet that takes place outdoors. The shops are next to each other outside. Furthermore, prices are convenient enough for an outlet. You can reach the area within 30 minutes of the city center. You can take a taxi, metro or bus to reach this shopping center in Athens. It's near the Athens Zoo. Here, you can find brands such as Nike and Versace. Children can also join activities at one of the big retail parks. They can enjoy trampolines, go-karts, bungee bouncing, and many other exciting activities. For coffee, you may consider sitting at Petite Fleur. For meals, Il Baretto on the top floor can be a good choice. It offers delicious pizza and Italian wines.
Address: E Poulaki, Spata, 190 04
Avenue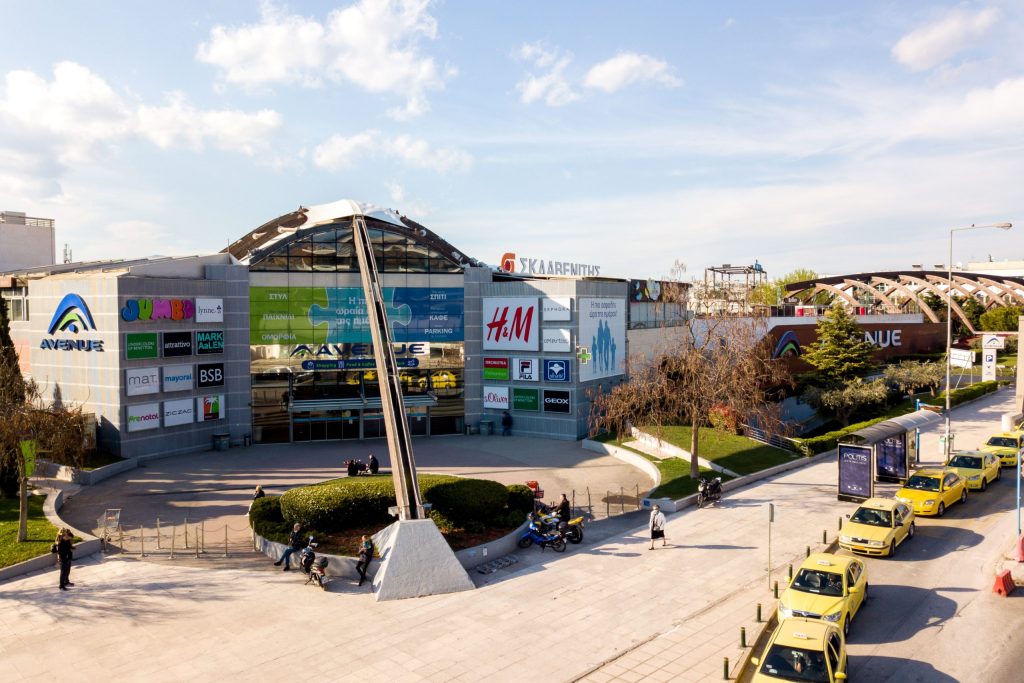 The outstanding quality of Avenue is its use of eco-friendly materials. Furthermore, it has 4,000 square meters of natural green area.
Here on Avenue, you can find many of the amenities a shopping mall provides. More than 60 brands are available for people of all ages. You can find accessories, household items, sports items, and many others.
Address: 41-47 Kifissias Ave., Maroussi
Notos Department Stores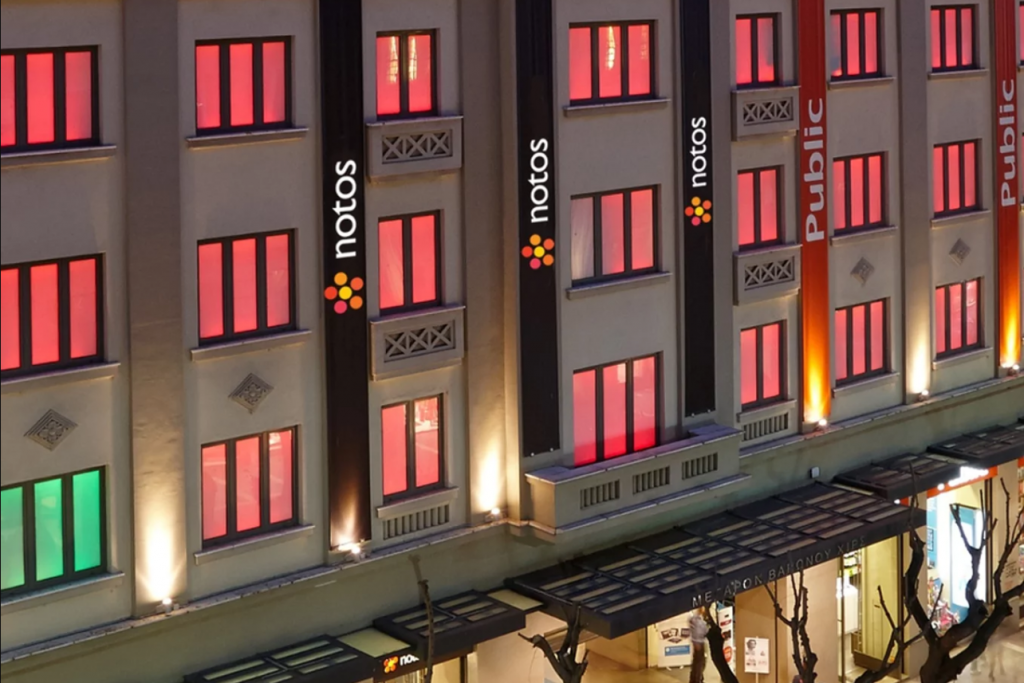 Notos is a very old and the biggest chain of department stores in Greece. This Athens shopping mall has been serving customers since 1901. You can find the most popular luxury brands worldwide here. Accessories, cosmetics, apparel, and footwear products are available in this shopping center. Besides Athens, Notos has branches in Thessaloniki, Piraeus, and Kalamata as well. It's also a very popular and favorable beauty and fashion destination in Greece. You can find both Greek and international brands in Notos.
Address: Stadiou & Aiolou, Athens
Attica The Mall Athens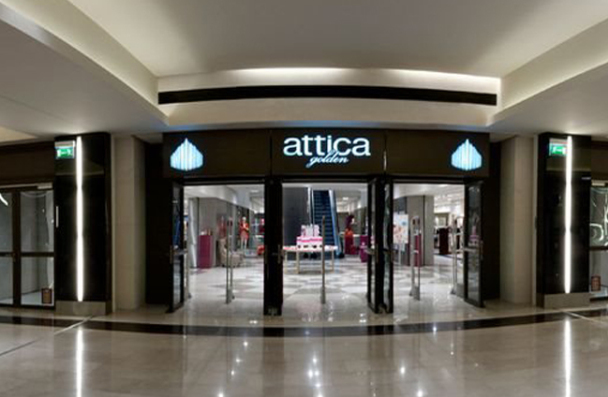 Attica is another shopping center that is based on the "shop-in-a-shop" concept. It has been providing service to its customers since 2005. Besides Athens, it has a branch in Thessaloniki as well. Here you can find the latest trends and famous fashion products. The products and brands appeal to people of all ages.
Address: 9 Panepistimiou, Syntagma
Athenian Capitol Mall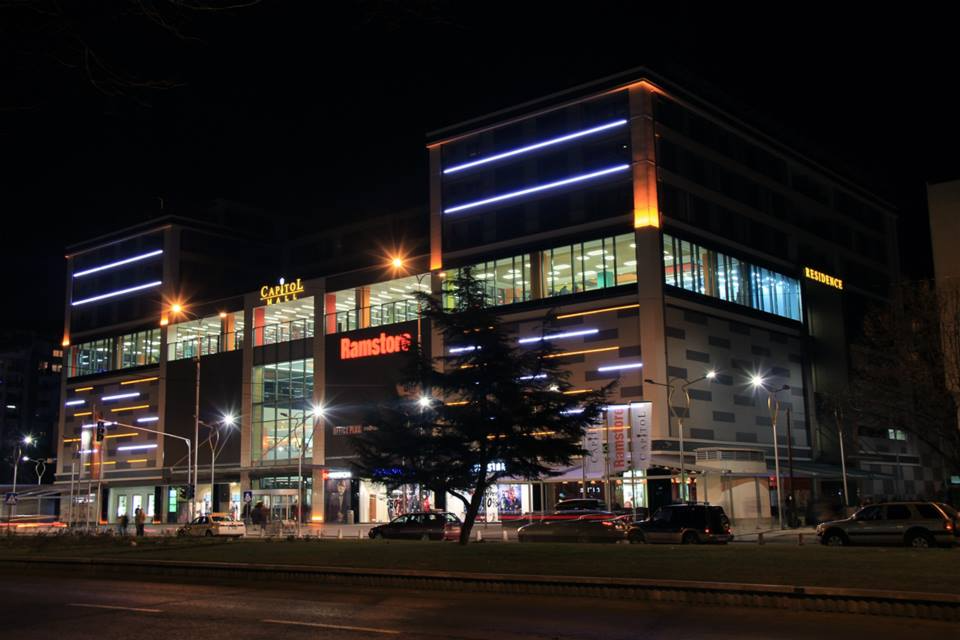 Athenian Capitol is a shopping mall that incorporates outlets for leisure and education as well as cultural outlets. It even contains the Hellenic Motor Museum as well. the museum takes up three floors. Inside the mall, there's a 3D cinema and an auditorium that provides 200 seats. The mall provides cafes and restaurants as well. There's an amphitheater at the top as well. In the construction phase of the building, designers from London and HASKOLL architects are said to contribute. Also, luxury resort standards were taken into account while it was being designed.
Address: Ioulianou & 3rd Septemvriou St, Omonia
Athens Heart Mall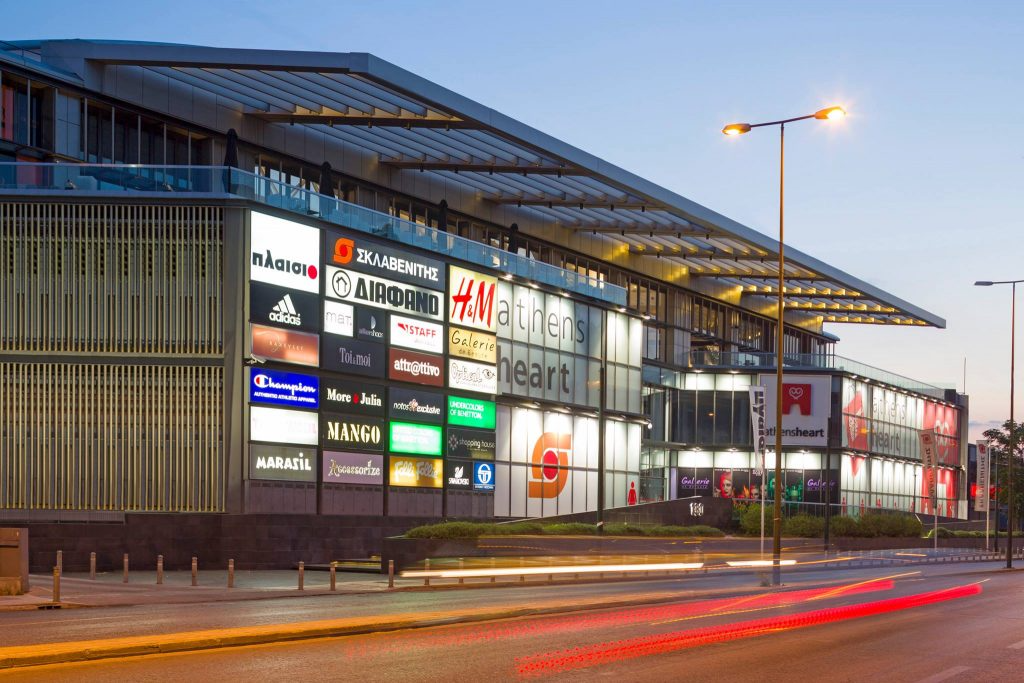 Athens Heart is another shopping center in Athens, which takes place between Omonoia and Piraeus. Like the other shopping centers mentioned above, this one includes brands and products for clothing and accessories. It provides products and apparel for children as well as furnishings. You can find popular fashion brands in this mall as well. This Athens shopping mall has four levels, and each has various shops. In addition to shops, you can find cinemas and ice-skating courts as well. Another attractive feature of Athens Heart is that it offers you a great view of the Acropolis. It also has an open roof which makes it bright enough with natural light coming from outside. The parking area can maintain 1200 cars.
Address: Piraeus 180, Tavros
Bonus: Central Market (Varvakeios)
Despite not being a mall, Central Market is a famous area for shopping. It also has an old history. The market has been serving as an open-air market for 150 years. It was established in honor of the national benefactor Ioannis Varvakis (1745-1825). He joined the war for Greek Independence and fought against the Turks.
Here in this market, you can find fresh vegetables and fruits as well as seafood and various meat. There are also various dishes that are cooked here, and they are affordable enough.
Address: 42 Athinas St Psirri, Athens, 105 51
Besides these malls mentioned above, you can find the following products and brands in the following areas:
Ermou Street: Popular brands like Zara, H&M, and Sephora cosmetics take place in this area. Many other stores that sell architectural objects, cosmetics products, accessories, and leather shoes are available.
Monastiraki: Here in Monastiraki market, you'll find simply anything, at affordable costs. For example, decoration products, furniture, jewelry, and items dating from the 19th century are all available in the market.
Kolonaki: For luxury shopping, Kolonaki is the right address. Voukourestiou street is famous for this, and shops selling high-end brands exist there. You can find brands such as Gucci Cartier, and Prada here. Other small boutiques take place here as well.
As you see, there are various shopping malls in Athens that you can spend time in with children or alone. You can have access to both local and international brands and products in these shopping areas.