Andros island is one of the Cycladic islands, and it's located on the north of this island group. Andros is known for its greenness and stunning natural landscapes among other Cycladic islands. It's only around two hours away from Athens.
The island offers you countless beautiful beaches, villages, and museums to enjoy. The most well-known beaches are Agios Petros, Batsi, and Golden Sand.
This guide provides you with basic information about the island including its history, accommodation, and transportation options. Let's begin with its history.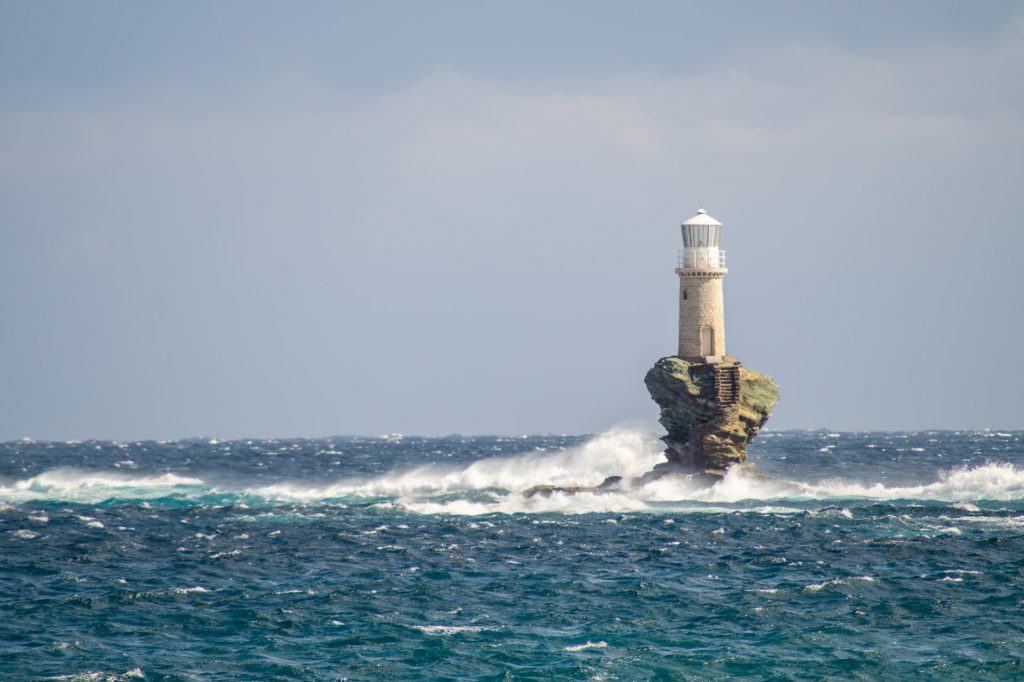 History of Andros Island
The island's history goes back as far as antiquity. Back then, it was called different names signing the island's abundant vegetation and waters. According to archeological findings, the first inhabitants of the island were from Mycenaean times.
Andros island Greece was under the occupation of several states including the Byzantines, Venetians, and Ottomans. In the following years after the Greek Revolution of 1821, the island experienced wealth and prosperity. Then, in the 19th and 20th centuries, the inhabitants began to migrate to other areas and countries. Today, it attracts both locals and tourists with its beauty.
Getting to Andros Island
If you wonder how to get to Antros, note that there's no airport on the island. The closest airport to Andros is in Athens. However, you can get to the island by ferry.
The Rafina port in Athens and some islands of the Aegean Sea provide ferry services to Andros. These islands include Mykonos, Naxos, Paros, and Syros.
After landing at the Athens airport, the bus to Rafina takes around 30 minutes. There are also buses that start from the center of Athens to reach Andros. Such buses start from Mavromateon Street in Pedio Areos.
If you want to visit the island with a guide, there are Andros tour tickets & excursions for this purpose. There are different types of tours that fall under different categories. 
Things to Do and See on Andros Island
Andros Greece is an ideal destination for tourists because of the variety of beaches and sightseeing. Still, you'll not be overwhelmed by the crowd of tourists compared to more popular Cycladic islands.
There are archeological museums and historical sites like Palaiopolis and Zagora. There are also great hiking trails to walk, and Venetian castles to see on this island. Let's find out the activities to do on Andros island below:
Go to the Goulandris Museum of Contemporary Art: The museum hosts a new exhibition each summer. In addition, you can find the works of Picasso, Kandinsky, and many other artists.
Do windsurfing: There are some windsurfing centers in Ormos Korthiou. If you're into such sports, you can definitely join it. In addition to windsurfing, SUP, scuba diving and wakeboarding are other activities to do here. Such watersport centers are located in Kipri and Ormos.
Visit the main town of Hora: You can enjoy seeing the neoclassical buildings, and walking around the streets with marble pavements in Hora. Also, you can try traditional foods and buy some clothes here. The Archaeological Museum takes place in the central square of Hora.
Go to the beaches: There are beautiful beaches on all sides of the island. In the north, there are the beaches of Ahla, Ateni, Grias, Zorkos, and Pidima. In the south, you'll find Agios Petros, Chryssi Ammos, Fellos, Batsi, and Halkolimionas.
Join festivals in Andros Greek: In the island's festivals, local artists play traditional music. At the same time, traditional foods, drinks, and dances are available at such festivals.
Go to the bars in Batski: In Batski, you'll find lots of bars and great cocktails and views. Vrachos, Veranda, Capriccio, and Skala are some of these popular bars.
Visit Apoikia for some greenery: You can walk in Apoikia to enjoy the greenery and Neraidotopos and its running waters.
Discover the hiking paths in Andros: There are more than 20 networks of trails in Andros. They're all accessible, and they're a great way to know more about the island. While hiking, you're sure to enjoy the views of the Aegean Sea, caves, and stone-arched bridges.
 Visit the site of Ypsili: It's an archaeological site in Andros. On this site, there's the sanctuary of Demeter, and parts of ancient houses. Ypsili is located in the village of Aprovato.
Accommodation on Andros Island
Andros island provides several accommodation options including hotels, apartments for rent, studios, suites, and villas.
Most of the hotels in Andros are located in the capital Chora, and Batsi. Still, you can find hotels all around the island. The most popular hotels in Andros include:
Micra Anglia Boutique Hotel and Spa,
Onar,
Aegea Blue Villas And Suites,
Blue Bay Hotel, and
Sunset.
Conclusion
Andros is one of the most beautiful Greek islands which is not open for tourism. That's why you can enjoy the tranquility and the pristine nature here. You can discover beautiful sites and hiking trails here while staying in an affordable place.
FAQ
Is Andros 25 island of Greece?
In terms of size, Andros is the 13th biggest island in Greece. The 25th island is Amorgos.
Where is Andros island?
Andros takes place on the Aegean and is the northernmost island of the Cyclades.
What is the best time to visit Andros?
The best time to visit Andros depends on your preferences. If you want to enjoy warm weather and fewer crowds, you might consider visiting in the shoulder seasons of April to May or September to October. If you prefer hot weather and more vibrant nightlife, you might visit in the peak summer months of June to August.
How do I get to Andros?
Andros can be reached by ferry from the port of Piraeus in Athens, or from other islands in the Cyclades. There is also a small airport on the island, with regular flights from Athens and other Greek islands.
What are the most popular things to do on Andros?
Andros is known for its beautiful beaches, charming old town, and rich cultural heritage. Some popular activities on the island include visiting the island's many beaches, such as Batsi Beach and Vlychada Beach, exploring the island's old town and its many churches and museums, and visiting the Andros Museum. Other popular tourist attractions include the Andros Cultural Center, the Sariza Springs, and the Andros Town Hall.
Is Andros a good destination for families?
Andros can be a great destination for families, with plenty of kid-friendly activities and attractions to enjoy. The island has several beautiful beaches with shallow waters, and there are also several water sports centers where you can rent equipment for activities like snorkeling and kayaking. In addition, there are several family-friendly restaurants and cafes that serve a variety of dishes.
Can I find budget accommodation in Andros?
There are many budget accommodation options on Andros, including hostels, guest houses, and small hotels. These types of accommodations can be a more affordable option for travelers on a budget. You can also find vacation rentals, such as apartments and villas, which can be a good option for families or groups of travelers.
What is the local currency in Andros?
The local currency in Andros is the Euro (EUR). You can exchange money at banks, currency exchange offices, and most large hotels. Credit cards are widely accepted in Andros, and ATMs can be found in most towns and villages on the island.
Is it safe to travel to Andros?
Andros is generally a safe destination for travelers, and crime rates are low. However, it is always a good idea to take basic precautions to protect your personal safety, such as keeping an eye on your belongings and avoiding walking alone at night in unfamiliar areas.
Is Andros suitable for travelers with mobility issues?
Andros can be challenging for travelers with mobility issues due to the island's hilly terrain and the fact that many buildings have stairs. However, there are several hotels and apartments that have been designed to be accessible for travelers with disabilities, and some tour operators offer special services for travelers with mobility issues. It is always a good idea to research your options in advance and contact the relevant authorities or organizations for more information.
What is the nightlife like in Andros?
Andros has a lively nightlife, with a variety of clubs, bars, and restaurants that stay open late. The island is popular with tourists, and there is a wide range of options to suit different tastes, from laid-back beach bars to more upscale clubs.
Is Andros a good destination for a romantic getaway?
Andros is a great destination for a romantic getaway, with its charming old town, beautiful beaches, and romantic atmosphere. You can enjoy romantic walks along the beach or explore the island's many scenic trails on foot or by bicycle. There are also several romantic restaurants and hotels on the island, making it the perfect place to relax and unwind with your loved one.