Hydra Island is a part of the Saronic Islands located in the south of Greece. It's very close to the capital of Greece, Athens. From Piraeus, it takes two hours to reach Hydra Island by ferry.
You may be surprised to find out that no motor vehicles or cars are allowed on the island. Only ambulances and garbage trucks are allowed. This allows Hydra Greek island very clean air for the residents to breathe.
The island is home to several museums, elegant mansions, and beautiful beaches. In this article, you'll find out a comprehensive guide about the island.
To know more about Hydra, let's jump into the next section.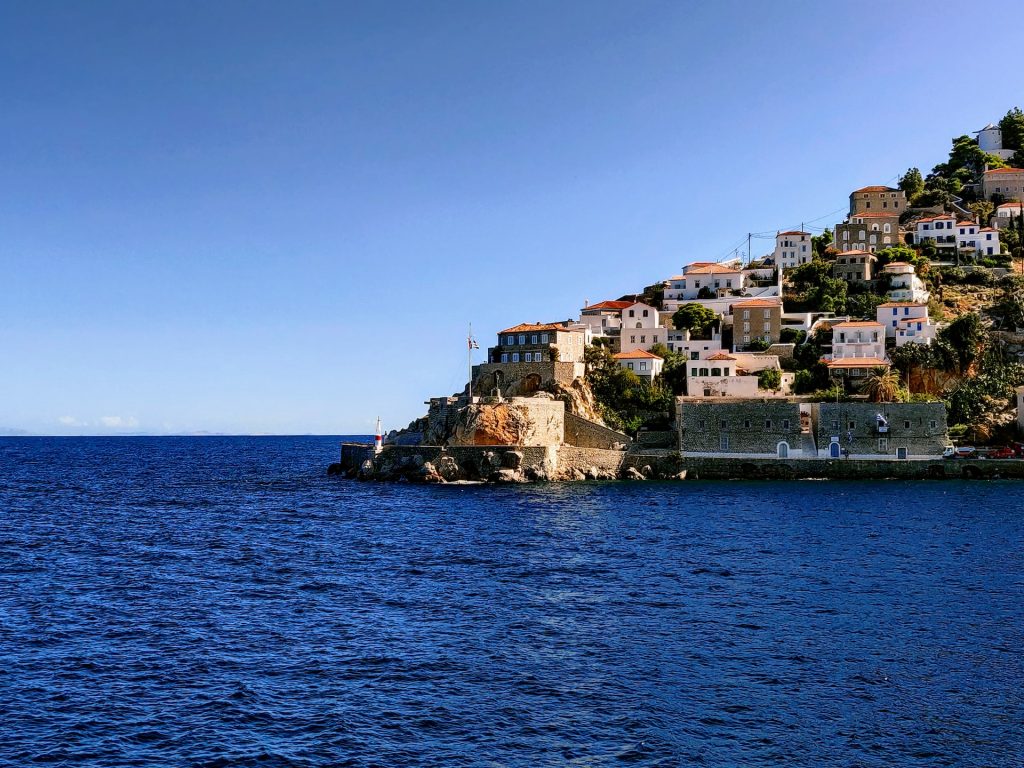 History of Hydra Island
The history of Hydra Island Greece goes back to ancient times. According to excavations, Mycenaeans were the first settlers of the island. Important events started to take place after the 15th century. At that time, the inhabitants started to escape from the Turkish attacks and pirate raids. In 1792, a plague broke out, and a considerable amount of the population was wiped out. Those who survived moved.
Around the same period, in the 18th century, the island also became prosperous thanks to its strong commercial fleet. It traded with countries like America, Spain, and France. However, after World War II, the island was in financial difficulty.
Then, around the 1950s, the island began to attract artists thanks to the beautiful landscape. What's more, some well-known movies were shot on this island as well. These films include Boy on a Dolphin (1957) and Phaedra (1962). The island attracted famous names like Leonard Cohen and Sophia Loren as well. Some may even call it Leonard Cohen Greece island because he used to have a house for the holiday here.
Today, the island keeps attracting many tourists as a tourist destination because of its beauty. There are also festivals taking place here in summer.
Getting to Hydra Island
Hydra is one of the islands close to Athens. If you go from Athens, you'll take the ferry departing from Piraeus port. In fact, taking a ferry is the only option to arrive at this island. Hydra Athens ferries depart from Piraeus five times a day. The journey takes around two hours.
Hydra has other ferry connections to destinations like Saronic islands. Some of them are Spetses, Aegina, and Poros.
If you come to Greece by plane, the closest airport to the island is in Athens.
As noted above, cars are not allowed in Idra Greece. Instead, there are donkeys and mules as transportation methods. Water taxis are also available.
Things to Do and See on Hydra Island
Holidays in Hydra are the dream of many tourists. Indeed, they have a reason for this: there are many places to see and activities to do here. Let's check the list below to know more about what to do on this island:
Walk within the streets of the island: Since there are no motor vehicles on Hydra, walking is a great activity to learn more about the island. You'll see that the streets are cobblestoned, and there are stone mansions around.
Visit the museums: There are great museums to visit in Hydra Greece. Some of the best ones are the Historical Archive Museum, The Byzantine Museum, and the National Historical Museum.
Enjoy the beaches in Hydra: Like many Greek islands, Hydra has stunning beaches to enjoy. One of the best beaches is Vlychos Beach. It's located two kilometers west of Hydra. The beach is quiet enough to relax, and the water is crystal clear. Other beautiful Hydra beaches include Kaminia Beach, Spilia, Agios Nikolaos, and Plakes Vlychos beach.
Visit the taverns: Some beaches in Hydra have taverns as well. Going to these taverns is a great way to try local food and fresh fish.
Enjoy the festivals: Hydra celebrates Easter celebrations, Miaoulia in June, and Koundouriotia festival in August. Several events take place at these festivals. If you happen to be there at that time, you can experience these traditions.
Accommodation and Dining on Hydra Island
Most of the hotels on this Greek island near Athens are located in the capital, Hydra Town. The capital town is also the center where many activities take place. Besides hotels, houses, apartments, and villas are also available for accommodation.
Hydra holidays can be quite enjoyable in these hotels since they have access to certain tourist facilities. They also provide nightlife spots as well. The hotels in Hydra are also housed in traditional buildings with classic designs.
Some of the best hotels and guesthouses in Hydra are listed below:
Hydroussa
Four Seasons
Paradiso
Alexandra
Alkionides, and
Cotommatae.
Besides accommodation, places for eating and drinking are manifold in this near Athens island. You can find restaurants, fish taverns, bars, and cafes throughout the island. Especially in Hydra Town, Kaminia, and Vlichos, you can find good restaurants. Some of the best restaurants in Hydra are Techne, Bratsera, Omilos, Castello, and Il Casta.
The best bars are also located around the port of Hydra Town. Usually, parties are held in these bars, and they're open until late hours. Some of the best bars in Hydra are Pirate, Plakostroto, and Hydronetta.
For coffee and a more quiet place, you can go to Isalos and The Cool Mule.
Conclusion
So, you're provided with basic information like the history, location, accommodation, and activities in Hydra Island. It's a beautiful island to enjoy the weather and the waters of Grece.
FAQ
What is a hydra?
The Hydra island takes its name from the Greek word hydra (υδρα) which means water.
How far is Hydra from Athens?
Hydra is an island near Athens, and it takes around two hours to arrive at Hydra by ferry.
How can I spend time in Hydra?
If you wonder what to do in Greece, you can visit Hydra Island and enjoy the crystal clear waters here.
What is the best time to visit Hydra?
The best time to visit Hydra depends on your preferences. If you want to enjoy warm weather and fewer crowds, you might consider visiting in the shoulder seasons of April to May or September to October. If you prefer hot weather and more vibrant nightlife, you might visit in the peak summer months of June to August.
How do I get to Hydra?
Hydra can be reached by ferry from the port of Piraeus in Athens, or from other islands in the Saronic Gulf. There is no airport on the island, so the only way to reach Hydra is by boat.
What are the most popular things to do on Hydra?
Hydra is known for its charming old town, beautiful beaches, and rich cultural heritage. Some popular activities on the island include visiting the island's many beaches, such as Mandraki Beach and Vlychos Beach, exploring the island's old town and its many churches and museums, and visiting the Hydra Museum. Other popular tourist attractions include the Hydra Naval Museum, the Tombazi Mansion, and Kamini Beach.
Is Hydra a good destination for families?
Hydra can be a great destination for families, with plenty of kid-friendly activities and attractions to enjoy. The island has several beautiful beaches with shallow waters, and there are also several water sports centers where you can rent equipment for activities like snorkeling and kayaking. In addition, there are several family-friendly restaurants and cafes that serve a variety of dishes.
Can I find budget accommodation on Hydra?
There are many budget accommodation options on Hydra, including hostels, guest houses, and small hotels. These types of accommodations can be a more affordable option for travelers on a budget. You can also find vacation rentals, such as apartments and villas, which can be a good option for families or groups of travelers.
What is the local currency in Hydra?
The local currency in Hydra is the Euro (EUR). You can exchange money at banks, currency exchange offices, and most large hotels. Credit cards are widely accepted in Hydra, and ATMs can be found in most towns and villages on the island.
Is it safe to travel to Hydra?
Hydra is generally a safe destination for travelers, and crime rates are low. However, it is always a good idea to take basic precautions to protect your personal safety, such as keeping an eye on your belongings and avoiding walking alone at night in unfamiliar areas.
Is Hydra suitable for travelers with mobility issues?
Hydra can be challenging for travelers with mobility issues due to the island's hilly terrain and the fact that many buildings have stairs. However, there are several hotels and apartments that have been designed to be accessible for travelers with disabilities, and some tour operators offer special services for travelers with mobility issues. It is always a good idea to research your options in advance and contact the relevant authorities or organizations for more information.
What is the nightlife like in Hydra?
Hydra has a lively nightlife, with a variety of clubs, bars, and restaurants that stay open late. The island is popular with tourists, and there is a wide range of options to suit different tastes, from laid-back beach bars to more upscale clubs.
Is Hydra a good destination for a romantic getaway?
Hydra is a great destination for a romantic getaway, with its charming old town, beautiful beaches, and romantic atmosphere. You can enjoy romantic walks along the beach or explore the island's many scenic trails on foot or by bicycle. There are also