Spetses island is a member of the Saronic Island group and is located in the center of the Saronic Gulf. The island offers stunning beaches, unique architecture, museums, and lively nightlife.
You can reach the island by ferry from Athens, and cars are not allowed in Spetses. So, you can expect a high quality of air while you're on the island. Venetian mansions and boutique hotels are other attractions that interest visitors.
In this article below, you're provided with a comprehensive guide about the history, things to do, and accommodation options of Spetses.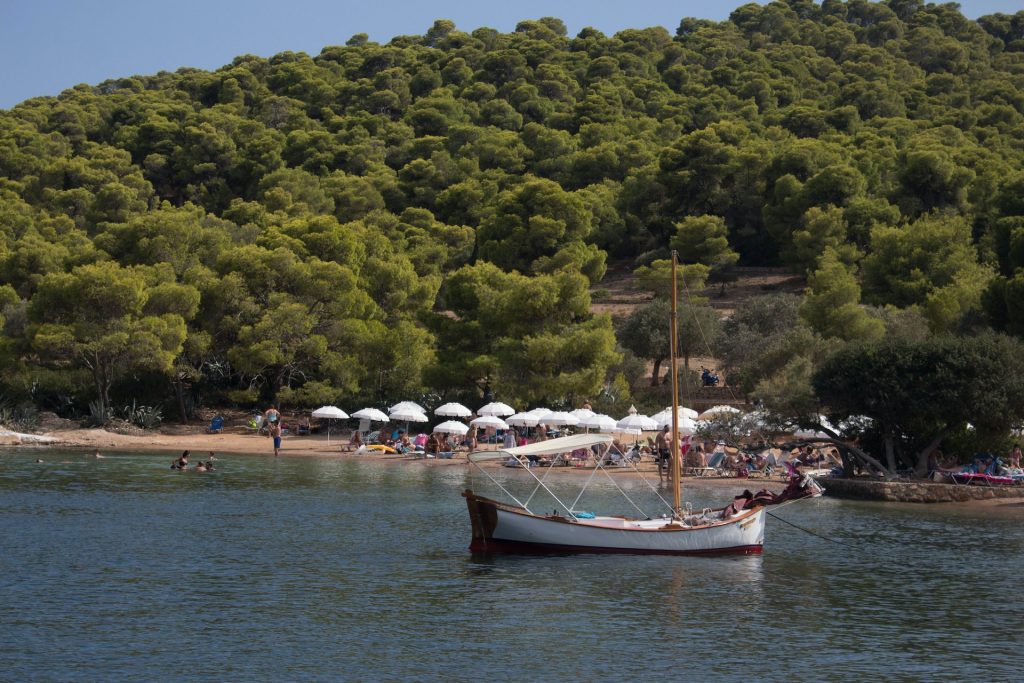 History of Spetses Island
According to archaeological findings, the island of Spetses was first inhabited around 2500 BC. The forming of settlements took time because of the pirate attacks around the 15th century. The first settlements began to occur around the 17th century on the island.
Spetses then reinforced its naval power in the early 18th century by having the Mediterranean shipping routes under control. Its powerful fleet showed its strength during the Greek Revolution against the Turks. It maintained its powerful position in fleets and warships in the Peloponnesian War as well. From the beginning of the 20th century, its power began to decline because of the rising power of Piraeus.
Spetses was also affected by the two world wars negatively, but it later recovered in the early 1990s. This was because of the development of the tourism sector on the island. The tourism sector still dominates the island today, and it's now the island's main resource.
Where is The Island of Spetses?: Getting to The Island
Spetses is one of the closest islands to Athens. Some people even come from Athens for a one-day trip. You can travel between the two places by ferry, and the trip takes around three hours. Ferries to Spetses are also available from Poros, Hydra, Ermioni, Porto Heli, and many other islands.
Note that the island has no airport, and the closest one is Athens International Airport (Eleftherios Venizelos). From the airport, you'll go to Piraeus port, and hop on a ferry to arrive at Spetses.
Since no cars are allowed on the island, you can ride a bicycle or get on a horse-drawn carriage to travel on the island.
Things to Do and See on Spetses Island
Swimming, hiking, and having fun in the cafes, bars, and taverns are some of the best things to do in Spetses. The beaches on this island are secluded and beautiful to relax at. Some of the best beaches are Vrellos, Agia Marina, and Agia Paraskevi. Athletic events like marathons are also held here in autumn and spring.
Let's check the main activities to do on Spetses island Greece below:
Visit the Xatzigiannis- Mexis Museum which is a bit away from Dapia. The museum is located in the mansion of Hatzigiannis Mexis. He's one of the most notable people in the country's history because of his part in Greek Independence. In the museum, you can see a collection of objects, relics, sculptures, costumes, and weapons. They illustrate the history and culture of the island.
See the athletic events of "Spetsathlon" in April and "Spetses Mini Marathon" in October. Spetsathlon is the biggest triathlon in Greece, and it's held every year. In Spetses Mini Marathon, you can enjoy seeing the swimming and running races.
Go hiking in autumn or spring. You'll come across several beautiful landscapes and buildings like chapels while hiking. Hiking routes also lead to isolated beaches as well. It's recommended to hike in warm seasons like spring and autumn.
Go to the Bouboulina Museum which is dedicated to Lascarina Bouboulina. She was one of the heroes of the Greek revolution. The museum exhibits the personal objects of Bouboulina.
Visit the house of Sotirios Anargyros. The mansion was built in 1904, and interestingly, there are two sphinxes in front of the house.
Watch films at the open-air cinema, Cine Titania. Some cultural events are also held here. You can eat something traditional, and drink cocktails as well.
Accommodation and Dining on Spetses Island
Accommodation options are manifold in this near Athens island. Hotels are available with studios and apartments. Boutique hotels and luxurious facilities are also available. Some hotels provide swimming pools, too.
Some of the best hotels on the island are:
Orloff
Poseidonion Grand Hotel
Villa Nika
Zoes Club, and
Spetses Hotel.
Restaurants, cafes, and bars are also available in Spetses Greece. In the restaurants, you can find Mediterranean, local and international delicacies. Some of the best restaurants in Spetses are Liotrivi, Clock Eatery, Patralis, Tarsanas, and Mourayo Spetses.
You can enjoy your time in bars and clubs along the shore, and most of them are located in the Old Harbor and Baltiza. Some of the best bars include Throubi, Palms, Bikini, Booze, and Cielo Mar. Almost all of them offer delicious cocktails. For a club experience, you can go to La Luz or Gusel.
Conclusion
So, you now have the answer to where is the island of Spetses, things to do here, and accommodation and dining options. If you don't want to get hot in summer, you can visit the island in autumn or spring.
FAQ
What is the best time to visit Spetses?
The best time to visit Spetses depends on your preferences. If you want to enjoy warm weather and fewer crowds, you might consider visiting in the shoulder seasons of April to May or September to October. If you prefer hot weather and more vibrant nightlife, you might visit in the peak summer months of June to August.
How do I get to Spetses?
Spetses can be reached by ferry from the port of Piraeus in Athens, or from other islands in the Saronic Gulf. There is also a small airport on the island, with regular flights from Athens and other Greek islands.
What are the most popular things to do on Spetses?
Spetses is known for its beautiful beaches, charming old town, and rich history. Some popular activities on the island include visiting the island's many beaches, such as Agia Marina and Agios Mamas, exploring the island's old town and its many churches and museums, and visiting the Spetses Museum of the Sea. Other popular tourist attractions include the Bouboulina Museum, the Anargyrios and Korgialenios School, and the Dapia port.
Is Spetses a good destination for families?
Spetses can be a great destination for families, with plenty of kid-friendly activities and attractions to enjoy. The island has several beautiful beaches with shallow waters, and there are also several water sports centers where you can rent equipment for activities like snorkeling and kayaking. In addition, there are several family-friendly restaurants and cafes that serve a variety of dishes.
Can I find budget accommodation on Spetses?
There are many budget accommodation options on Spetses, including hostels, guest houses, and small hotels. These types of accommodations can be a more affordable option for travelers on a budget. You can also find vacation rentals, such as apartments and villas, which can be a good option for families or groups of travelers.
What is the local currency in Spetses?
The local currency in Spetses is the Euro (EUR). You can exchange money at banks, currency exchange offices, and most large hotels. Credit cards are widely accepted in Spetses, and ATMs can be found in most towns and villages on the island.
Is it safe to travel to Spetses?
Spetses is generally a safe destination for travelers, and crime rates are low. However, it is always a good idea to take basic precautions to protect your personal safety, such as keeping an eye on your belongings and avoiding walking alone at night in unfamiliar areas.
Is Spetses suitable for travelers with mobility issues?
Spetses can be challenging for travelers with mobility issues due to the island's hilly terrain and the fact that many buildings have stairs. However, there are several hotels and apartments that have been designed to be accessible for travelers with disabilities, and some tour operators offer special services for travelers with mobility issues. It is always a good idea to research your options in advance and contact the relevant authorities or organizations for more information.
What is the nightlife like in Spetses?
Spetses has a lively nightlife, with a variety of clubs, bars, and restaurants that stay open late. The island is popular with tourists, and there is a wide range of options to suit different tastes, from laid-back beach bars to more upscale clubs.
Is Spetses a good destination for a romantic getaway?
Yes, Spetses is a great destination for a romantic getaway. The island has a picturesque old town with charming streets, quaint cafes, and stunning views of the sea. You can enjoy romantic walks along the beach or explore the island's many scenic trails on foot or by bicycle. There are also several romantic restaurants and hotels on the island, making it the perfect place to relax and unwind with your loved one.