Markets in Athens Greece offer rich and diverse food for residents. Similarly, the Greek cuisine is as rich as the Athens food markets. The cuisine carries the traces of the country's long history as well as the Mediterranean taste.
When you come to Athens, you'll find a range of downtown Athens food in these markets. If you ever wondered "What did Athens eat?", you'll find the answer in this Athens market Greece guide. From meat and fish to vegetables and spices, the food markets bring all these tastes together. Not to mention that all this food is completely fresh.
Food market Athens is also a great way to meet the locals and experience the food culture in Athens.
In this guide, you'll find the food markets in Athens and what to buy from them.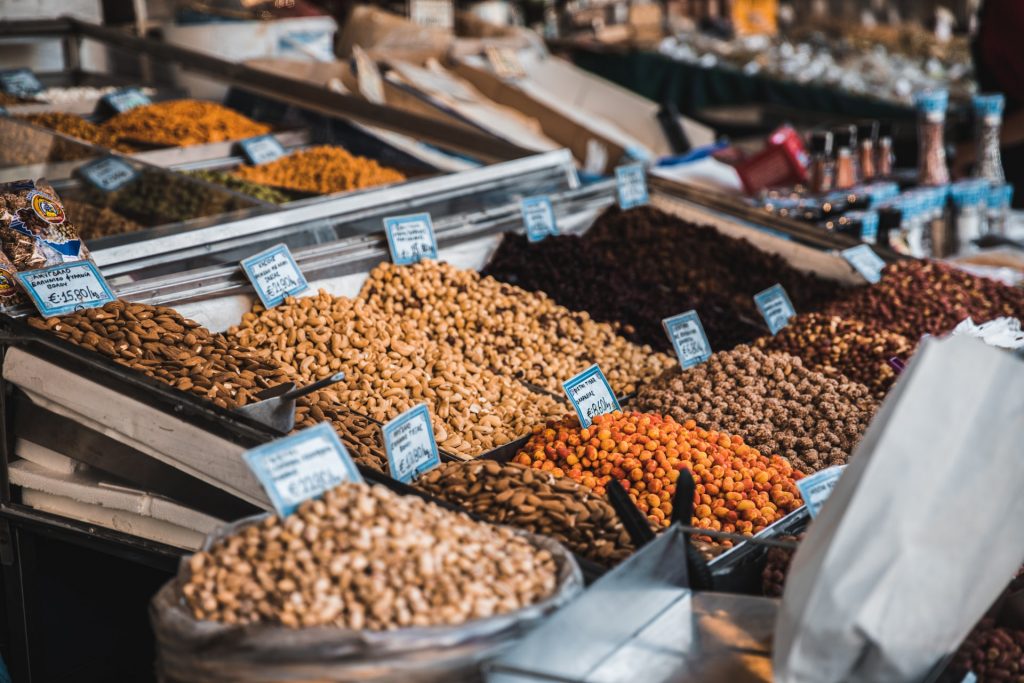 Athens Central Market
Located on Athinas Street, the Central Market Athens is open from 8 a.m. to 6 p.m. It's closed only on Sundays. The central municipal Athens market is also known as Varvakios Agora. It takes place between the Evripidou and Sofokleous Streets. You'll find any type of food you imagine in this market. Many locals come to this market from different suburbs of the city.
Since 1886, Athens central market has been in service. In Athens interior market, you'll find cafes, bars, restaurants as well as cinemas and museums.
The market consists of two main sections. One is the open-air area. Here, you can find vegetables, fresh fruits, spices, and olives. The other area made up of iron and glass complex offers meat, fish as well as local cafes and tavernas.
The rest of this guide focuses on certain areas where you can find specific food in this market. Let's start.
Athens Meat Market
Let's start with Athens meat market with the special pastourma. Blended with several combinations of spices, the pastourma is available in two shops here. The shops Miran and Arabian in Evripidou Street offer this delicacy. You can also find a similar taste called sujuk in Miran as well. It's made from beef and lamb and some spices again.
Another shop to find good meat is Lefkaditis. It's a butcher shop of 50 years of age. You can find several types of animal parts like intestines, tongue, oxtail, tripe and several others.
Near Sofokleous Street, you can see the family-run eatery called Aris. You can find grilled meat and fish as well as salads and starters here. They cook the meal with the food they get from the market. You can also eat fish here.
Across from Epirus to Aiolou Street, you'll find Aggelis, known as the "king of butchers" in this market. Everything the shop sells directly comes from the farms in Kerkini which is in northern Greece.
Tsironis is another shop that provides goat, lamb, and mutton. It's extremely famous and it sells delicious meat. Most of the meat comes from the island of Naxos.
A family-run shop called Arkas Batanian offers Anatolian-style cured meats. In addition, it also specializes in sausages and similar charcuterie. Their soutzouki, pastourma, and kebabs are worth trying when you visit here. They have another shop next door. This shop sells cured pork, salmon, and svetlana as well. It mostly focuses on foods from Russia and eastern Europe.
Athens Fish Market
In the Athens fish market, you'll mostly see sardines, mackerel, and anchovies. Calamari, shellfish, octopus, and cuttlefish are other delicacies here.
To Bakaliko tou Benetou in Evripidou Street is one of your options to find fresh fish in. Especially mackerel, cod, and herring are good very fresh here.
Korakis is another shop where you can find fresh fish. They clean the fish meticulously to ease the cooking process for you. It's quite famous with certain tastes like bottarga as well.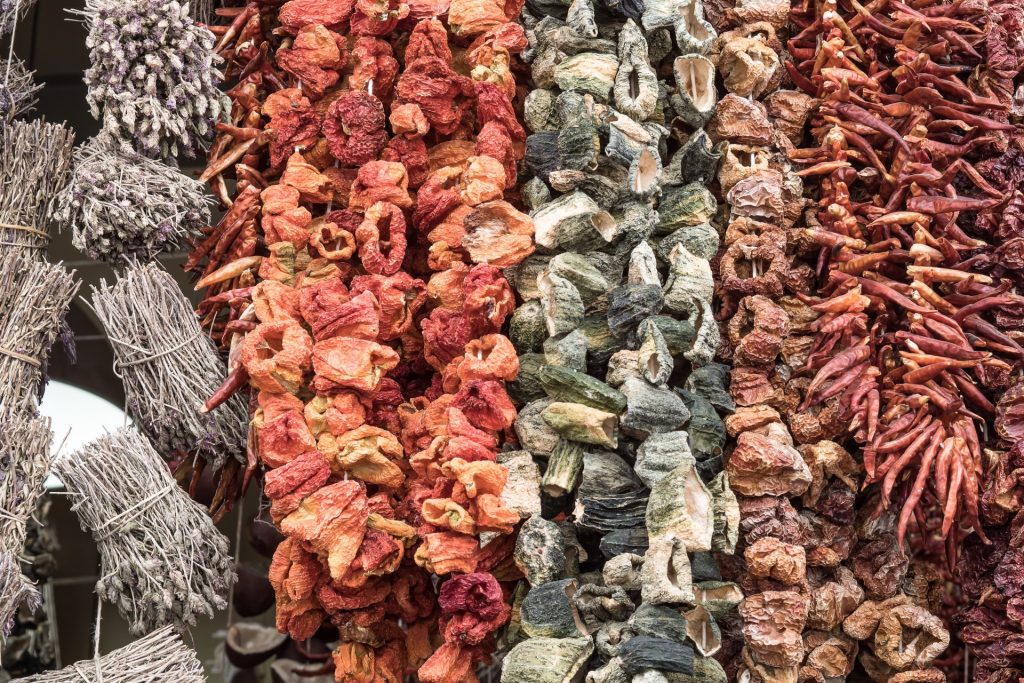 Herbs, Spices, Vegetables, and Fruit in Athens
The shop Elixir is famous for the herbs it sells. It offers different types of herbs, and it's located next to the Central Market.
It's no wonder that Evripidou Street offers a diverse range of spices. You can find shops selling spices from Aiolou Street to Sokratous Street. Dried fruits like prunes, dates, raisins, raspberries and many others are available here.
Different kinds of tea are also available in this market. These include chamomile, peppermint, linden, and many others.
On Athinas Street, you can also find the vegetable and fruit market. It offers all types of olives, sun-dried vegetables, cheeses, pastry, salted cod, rice, and many other tastes.
Other Shops To Try Other Delicacies
Arcadia is a 100-year cheese shop in Athens. Its feta cheese comes from Tripoli and anthotiro from Amfilohia. There's also another white cheese called manouri that the shop sells.
I Strouga tou Moria, which is also called Bitsika, is another great cheese store. Especially the feta cheese and kasseri are quite delicious in this shop.
Another shop, Limnia Gi, is a grocery store. It offers products from the islands of Limnos and Ai Stratis. There are fresh egg pasta cheeses like melichloro and kalathaki and cured fish here. In addition, you can find wines, honey, and meat in this store as well.
On Streit Street, you'll find I Folia tou Meliou which is a small honey shop. There are bee pollen, royal jelly, beeswax as well as honeycomb in this store.
As we've shown you, the Athens food market is full of diversity and great taste. We recommend you to visit it when you arrive here.
If you are looking for other than food markets, you can read the Best Athens Markets guide.