Greece is a country that offers delicious and rich cuisine. The capital city has also its share of this richness and it provides some of the best places to eat in Athens Greece. Here in Athens, you'll certainly discover and enjoy these tastes throughout the city. You can find both traditional food in Athens as well as recent delicacies.
Greek cuisine takes its roots from thousands of years of culture and practices of eating and cooking. Although certain names and cooking methods changed over time, there are some things that make up the base of the cuisine. For example, wine, olive, olive oil, and bread have continued to be the ingredient of a typical Greek diet for centuries. In addition, Greek cheese, nuts, legumes, and certain herbs contributed to the various dishes to be created. Accordingly, some restaurants in Athens Greece maintain serving traditional foods as well as combining them with modern methods and ingredients.
Let's now discover the 10 best restaurants in Athens Greece.
1. Orizontes Lycavittou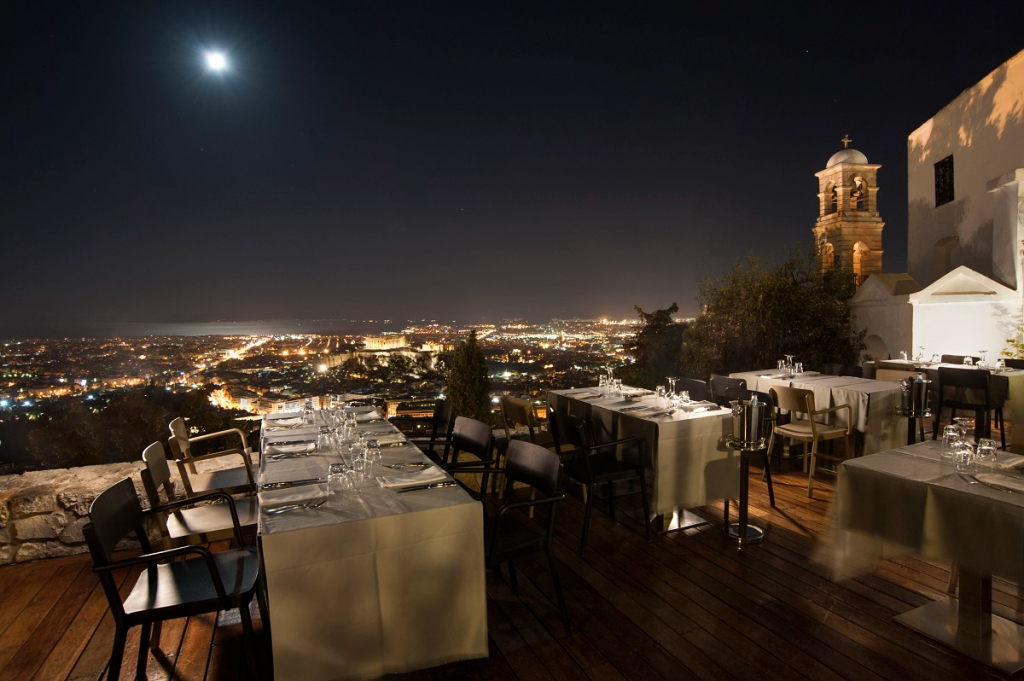 This is a restaurant located on Lycabettus Hill, which is one of the highest hills in Athens. Besides the Mediterranean cuisine, you'll love the view of the city from above. Here in this Athens restaurant, you can find local and seasonal food as well. The restaurant offers high-quality and fresh seafood as well. There are Greek and international wines selected carefully for the menu as well. You can make your reservation for a table on the terrace. Booking online is also possible.
Best for: Bouillabaisse
Address: Corner of Ploutarhiou & Aristippou Streets, Kolonaki
2. Spondi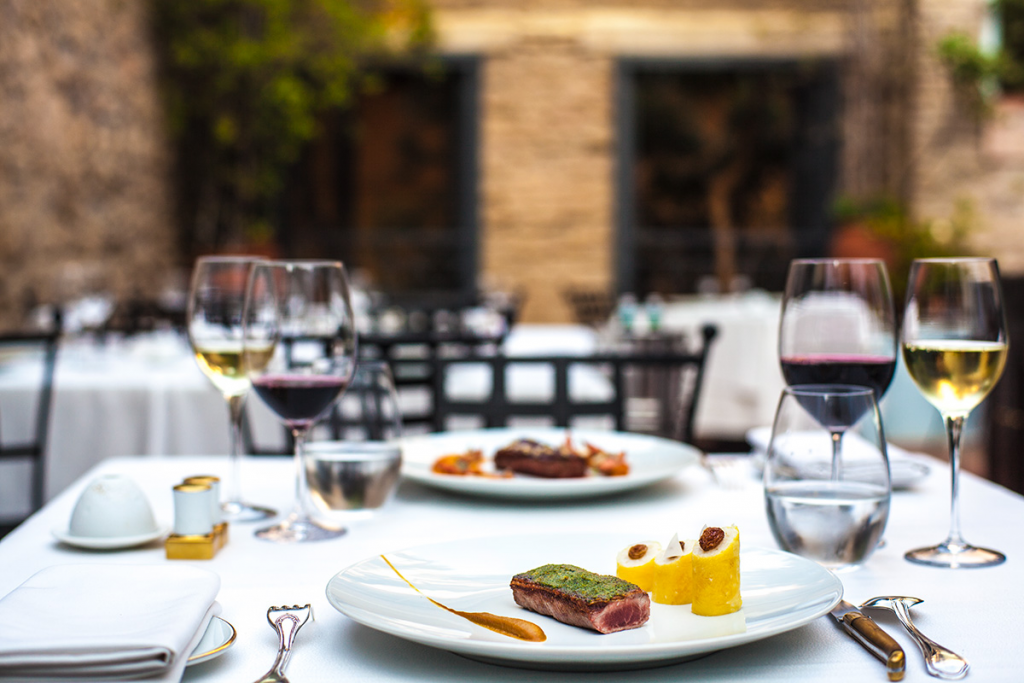 Spondi is one of the best Athens restaurants that was awarded two Michelin stars. It's also a member of Grandes Tables Du Monde. The restaurant has been offering fresh and delicious food since 1996. Here in Spondi, you can enjoy seasonal produce as well as a combination of modern and classic tastes. It also serves over 1300 wine labels.
The restaurant is located in Pagrati, and you can reach there from the Acropolis and the Panathenian Marble Stadium by walking. The ambiance at Spondi is also charming enough.
Best for: Milk-fed lamb in a herb cocotte, eggplant-coriander polenta
Address: Pyrronos 5, 11636, Pagrati, Athens, Greece
3. Hytra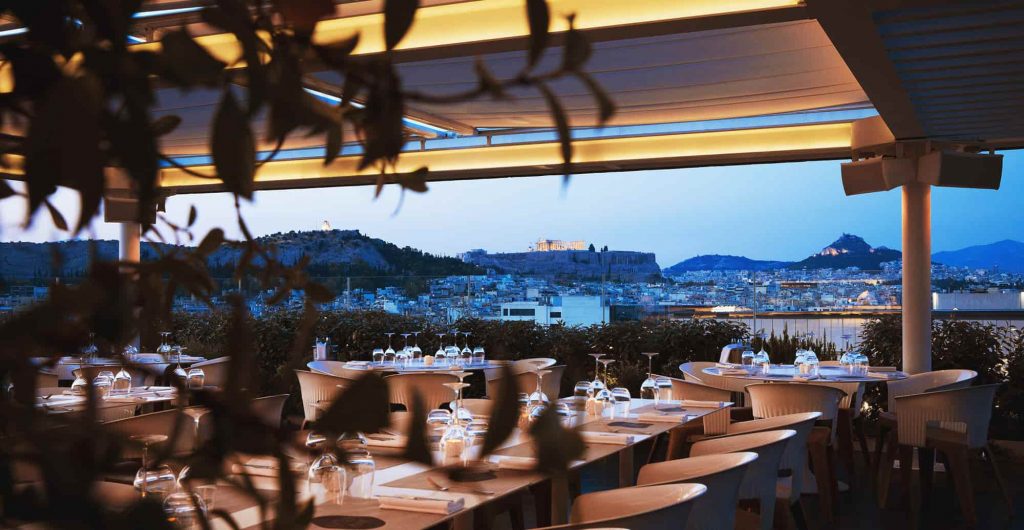 Hytra is another restaurant in Athens Greece with a Michelin star and is awarded Toques d'Or. It's located on the sixth floor of the Onassis Cultural Center. The menu here is quite rich. You can find meat and seafood as well as fresh vegetables.
One of the best restaurants Athens has, Hytra introduces you to Greek cuisine. It also includes delicious desserts and provides a bar section as well. You can eat tapas with a drink or choose a full-course meal. You can find wines supplied by Greek producers. The restaurant also boasts the view it provides. You can enjoy your meal here on the terrace during summer with a panoramic view of the city.
Best for: Spanakorizo (rice, spinach, dill, and lemon), eggplant ice cream
Address: 6th/7th Floor, Occ/Stegi 107/109 Syngrou Avenue 11745 Athens, Greece
4. Karamanlidika tou Fani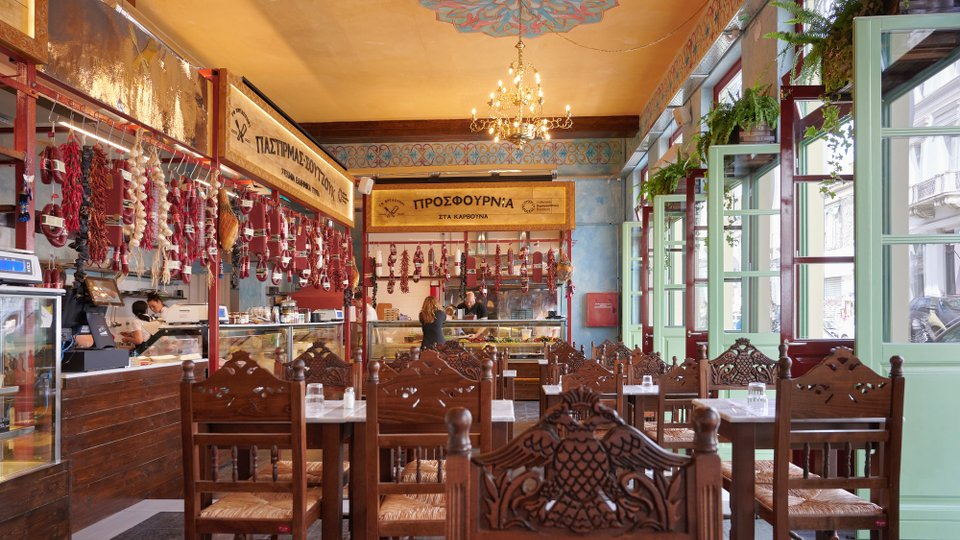 If you ask which restaurant offers the best food in Greece, Karamanlidika tou Fani can be one of the answers. It provides traditional food and style, and this is why the locals love the place. You can find various meze in this deli house and Greek cheese. You can choose to sit indoors or outdoors. The baklava, savory pies, dolmades, and small gourmet sausages are some of the favorable tastes in this store. Drinks include wines, ouzo, and Tsipouro.
Best for: Fried aubergine and zucchini, Saganaki cheese with pastourma, kavourma
Address: 119 Ermou St, Athens
5. Rafale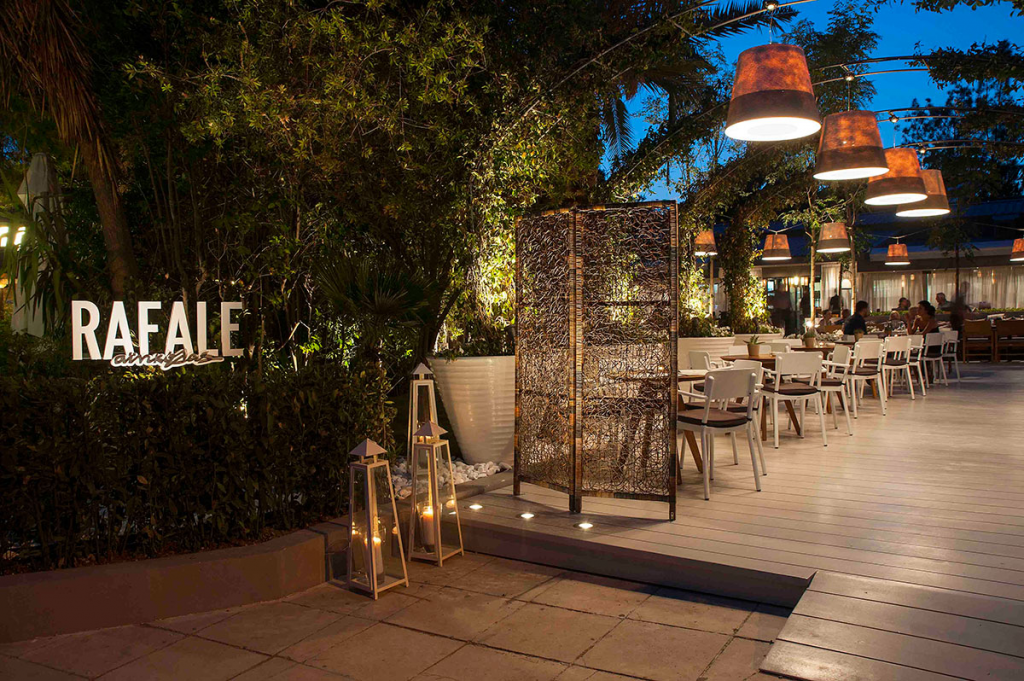 Rafale is a fish restaurant that is open for lunch and dinner. This is one of the most elegant restaurants in Athens. Located in Laimos, Vouliagmeni, Rafale offers delicious fresh fish for its guests. The prices are affordable enough. The selection of the fishes is made with special attention by the manager Dimitris Pantazis. Accordingly, the chefs prepare delicious combinations of seafood, fish, and other ingredients. The wine list is also satisfying enough.
Best for: Pappardelle with seafood ragout, tenderloin
Address: Apollonos 28, Laimos Vouliagmeni
6. Strofi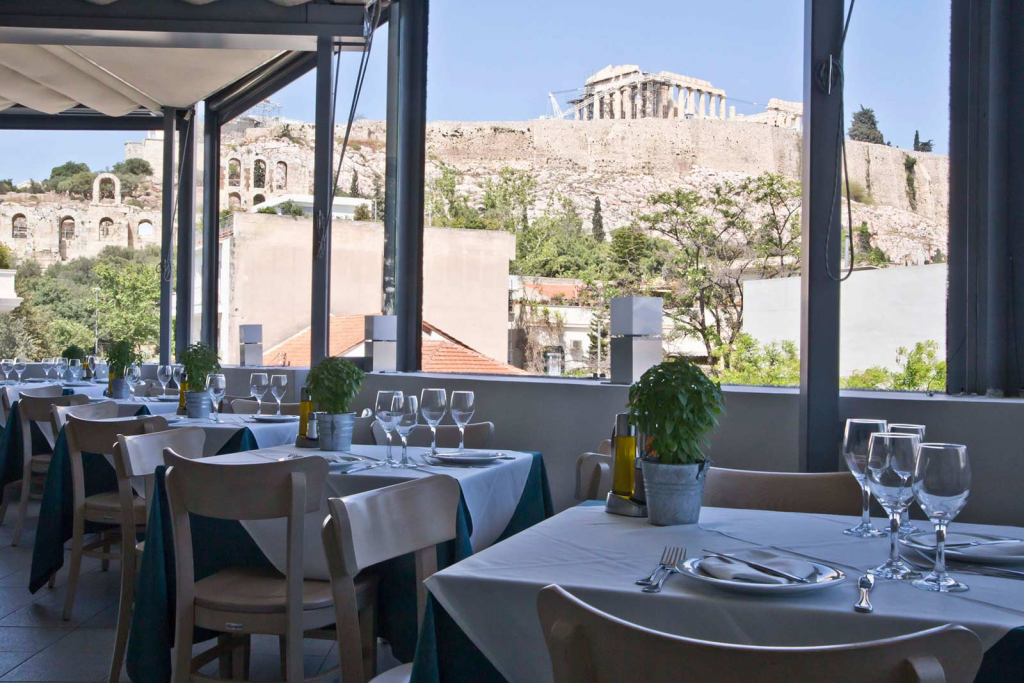 Strofi is a great alternative for enjoying your dinner in Athens. This restaurant is located under the foothills of the Acropolis. It has been serving guests since 1975. Thanks to this, you can enjoy the view of the Parthenon a lot. You can find traditional food as well as a great wine list in Strofi. Greek wines are also available. In addition to dolmades, moussaka, and grilled meat, you can taste seafood and fresh fish as well.
Best for: Roast lamb stuffed with Greek cheese
Address: 25 Rovertou Galli, Athens
7. Varoulko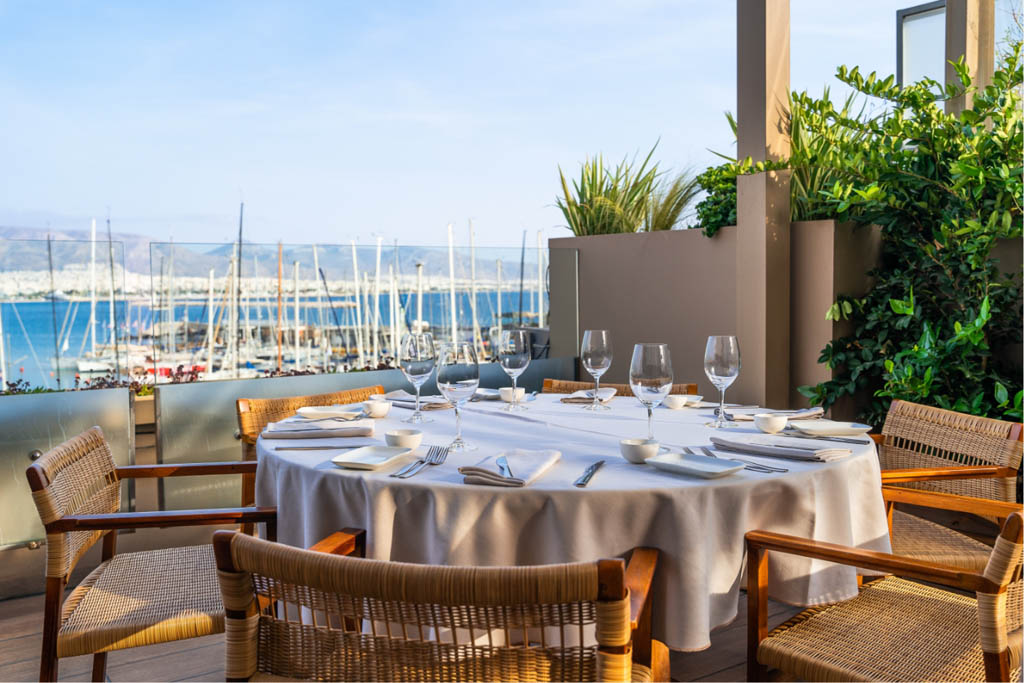 One of the best restaurants in Athens Varoulko is the first restaurant to receive a Michelin star in Greece. This is a restaurant offering a great view of the sea. It's also called Varoulko Seaside. It has been open since 1987. Varoulko serves both lunch and dinner. The lunch is a light one including mezes compared to an elegant dinner in the evening. Here, you can find really good food in Greece. The chef who was awarded the Michelin star creates delicious food by combining different flavors like seafood and traditional dishes.
Best for: Smoked octopus with wild greens ("Stamnagathi")
Address: Akti Koumoundourou 52, Pireas 104 35, Athens, Greece
8. Cookoovaya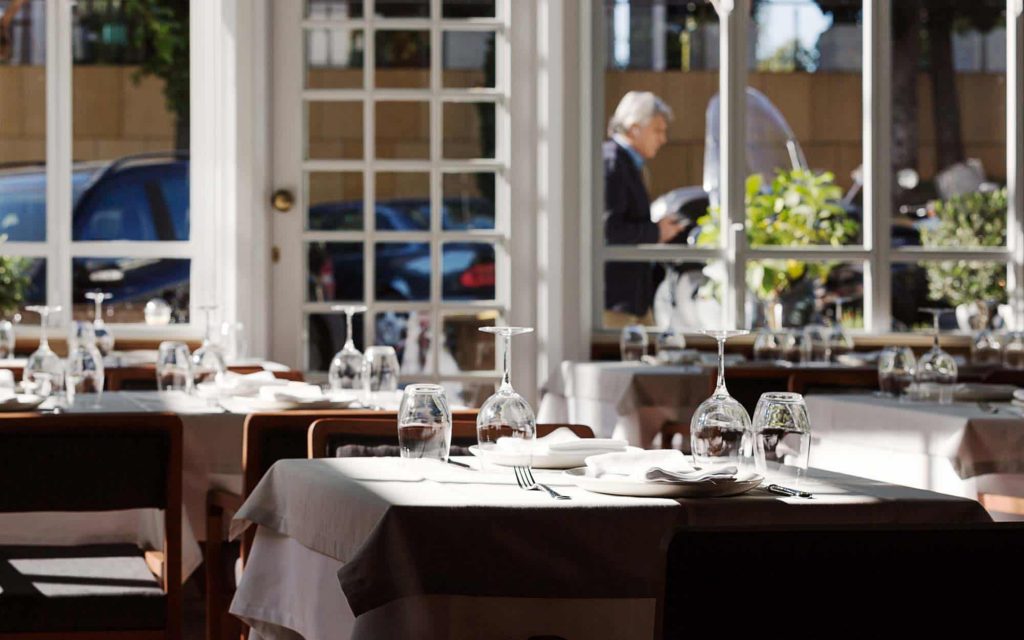 KlimCookoovaya, which launched in late 2014, is the idea of five renowned Athenian cooks. Including its open kitchen and premium modern dining area, it is one of the restaurants in Athens that is defining new cuisine and service trends. Traditional meals bursting with Greek flavors and creativity, such as minced beef pie with natural egg and yogurt or giouvetsi with beef short ribs. The menu is organized into cooking techniques such as 'in a pot and casserole' or 'on a skewer,' and most items are meant to be shared in a true Greek manner.
Best for: giouvetsi
Address: chatzigianni Mexi 2a, Athina 115 28
9. Nice "n" Easy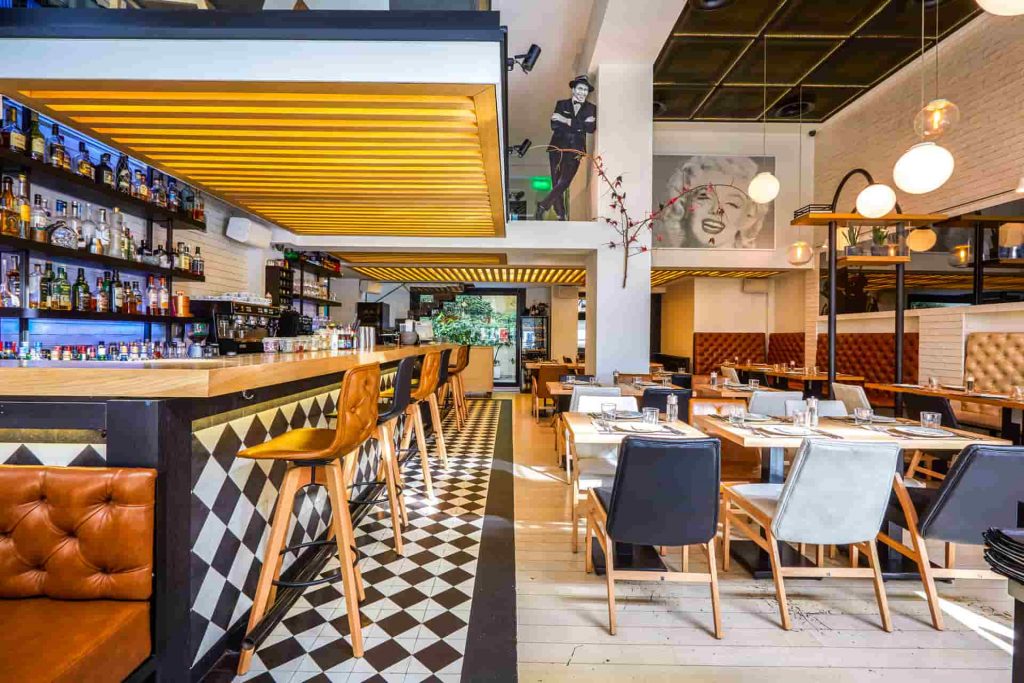 Another one of the cool Athens Greece restaurants is Nice "n" Easy. It provides both local and organic food for its guests. They embrace the approach of farm-to-table. It serves both traditional dishes as well as a combination of traditional and modern touches. The restaurant takes its name from a Frank Sinatra song. You can enjoy several dishes made with chicken and meat. Bogie and Bacall is one of them.
The restaurant has two other branches in Kifisia and Mykonos.
Best for: Bogie and Bacall which is skewered chicken kontosouvli. It's marinated in Greek beer with sun-dried tomatoes.
Address: 60 Omirou & Skoufa str., 106 72
10. Papadakis Restaurant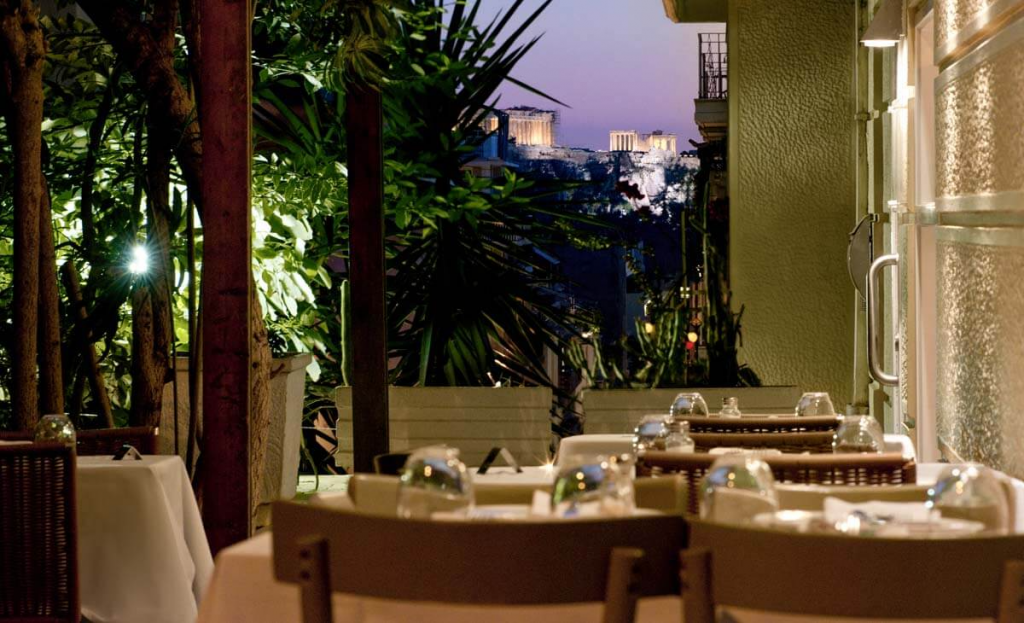 Papadakis was founded by celebrity chef and national hero Argiro Barbarigou. Set at the foot of Mount Lycabettus and among the sweet orange of Kolonaki, you may dine al fresco in the summertime or indoors on milder days in the cozy dining room. Beginners include baked aubergine, spinach pie coated with honey, and their famous salads with xinomizithra (sour, white cheese). The seafood pastas are the star attraction and the purpose you visit there, with Barbarigou's distinctive light and delicate sauces. In the winter, the 'psarosoupa' or fish soup is a requirement.
Best for: Xinomizithra, psarosoupa
Address: Chatzichristou 12, behind Acropolis Museum Makrigianni, 117 42
So, restaurants in Athens are manifold, and each has a special menu favored by locals and tourists. If you want to discover Athens restaurants Greece, you can start from the list above.