Athens is a city where you can find souvlaki shops and restaurants everywhere. It's also quite affordable, being not more than €3 for one portion, especially if sold in the streets.

So, what is souvlaki then? It is meat on a skewer. The meat can be chicken, pork, lamb, or beef that is grilled. You can either eat souvlaki on a plate or as a sandwich. The sandwich is mainly a pita filled with french fries, vegetables, sauce and pepper, and the grilled meat. You can find souvlaki sandwiches being sold on the street as well. Note that souvlaki as a sandwich is a more popular option in Athens.

You can find the list of the best souvlaki shops in Athens below.

Kostas
Let's start with one of the most famous souvlaki places in demand. It has an old history, dating back to 1950. Note that Kostas is closed on weekends. On weekdays, long queues are waiting for the delicious souvlaki. Also, the shop can close early in the afternoon when the products are out of stock that day.

You should be prepared to face a not luxurious place. The seating places are not even enough for the huge crowd. However, because of its taste, this doesn't bother people at all. One of the reasons that make Kostas' souvlakis delicious is the spicy tomato sauce. Also, note that you can only find beef meatballs and cubed pork as meat options.

You can find Kostas near Agia Eirini Square and the famous coffee shop Tailor Made. The average price for souvlaki here is around €2.50.

Elvis
Yes, the place takes its name from the famous singer Elvis Presley. The interior design is aimed to memorialize him through some pictures and writings.

Here you can find options of pork sausage and cubed pork as well as lamb kebab and chicken. A quick note: you can even be served a shot of raki as a welcome. You can order a normal bread or a grilled pita depending on your choice.
As an affordable place again, you'll pay each skewer around €2.

The place is open up to quite late hours. On weekdays and Saturdays, it is open until 1.00 a.m. On Sunday, open until 2.30 a.m.

Note that it has two branches: one at Archimidous 1-5 and the other near the Kallimarmaro Stadium.
O Kostas
Located at Pentelis 5, O Kostas is different from Kostas mentioned above. It is also a small shop like Kostas. It has also been operating since the 1950s. Note that this place closes as early as 3 pm. Furthermore, if they're out of stock they can close the shop even earlier. It is popular among both locals and tourists.

This place also has a huge line of people, so be prepared before you arrive here.

In O Kostas, you'll find the ingredients wrapped in a pita. Inside the pita, you'll find onions, tomatoes, tzatziki, meat, yogurt sauce, a bit of chili, and parsley.

The average price for one souvlaki is €2. Note that you may need to order two, to get full.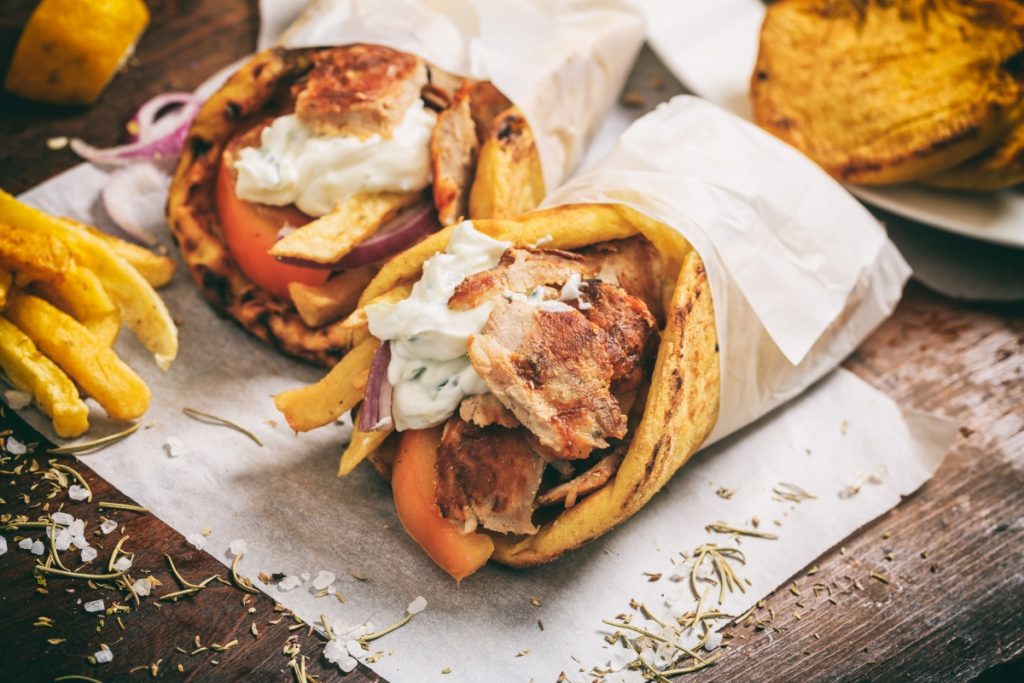 Hoocut
Relatively a recent souvlaki place, Hoocut was opened in 2018, and is located at 9 Agias Irinis Square.

Here you can find chicken, pork, lamb, and beef with pita. Yet, note that french fries come next to the pita, not within.

As for the architecture, the shop has a high ceiling and includes a grocery store as well. They cook and prepare the meat in front of you. The dough of pita bread is also prepared and baked there. Furthermore, you can choose from a variety of sauces for your souvlaki.

The average price is €2,5-3.

Lefteris o Politis
Located at Satovriandou 20, Lefteris o Politis is another popular destination for souvlaki and kebab skewer lovers.

It is especially a good choice if you prefer beef for your souvlaki. Note that the shop's meat is a bit fatty but delicious. Also, one portion is around €2. Note that the portions of the kebabs may be small for you. So, it may be better to order at least two.

As expected, this is also a small shop that serves great kebabs and souvlaki. This is why people also wait in line here.
Note that Lefteris o Politis is open from the morning until noon, except on Sundays. This is why you'll need to arrange your meal time accordingly if you want to try the food here.
Lefteris
Located at Eirinis 2, Nea Smyrni, Lefteris is in the south part of the city, in the square of Nea Smyrni. It has a history of 60 years, where it was first opened on Omirou street.
Like most of the shops mentioned above, Lefteris also is a shop inherited from fathers to sons and grandsons.
An interesting part of this place is that they do not put any sauce inside the wrap, although you want them to. However, you can put them later if you want. Also, fries are not allowed inside the wrap as well.
Note that the place is closed on Sundays. You'll be impressed when you hear the reason: the vendors of the pita bread are also closed. So, the place does not want to use stale bread for their wraps.
The average price for one souvlaki portion is around €5.50.
Thanasis Kebab Monastiraki
As the name suggests, it is at the Monastiraki Square, located at Mitropoleos 69. Contrary to most of the places above, this place is relatively larger.
The place also serves gyros that are shredded as opposed to the cubed meat of souvlaki. You can also find sandwiches of chicken and grilled pork souvlaki.
One souvlaki platter here is around €9.80.
Don't miss out on our Best Restaurants To Enjoy Greek Cuisine in Athens for more recommendations!