Home to 6,000 islands and a favorable climate, Greece is one of the popular places for glamping. The country's location is a determining factor in this demand: It has the Aegean Sea on the east, the Mediterranean Sea on the south, and the Ionian Sea on the west. Accordingly, you can find many beaches and coves here.
Glamping at a Glance
In order to get a better idea about glamping in Greece, let's first understand the meaning of glamping: In fact, it consists of the words "glamorous" and "camping". As the name suggests, glamping is an experience where you can find luxury and camping experiences at the same time. In this sense, there are some advantages here as opposed to ordinary camping.
In general, glampers find appropriate beds when they arrive at their glamping site. The units offer amenities that almost a usual hotel offers. They arrange your bed, sheets, and certain necessary utensils for the kitchen and bathroom. In this way, you don't need to pack up a lot of stuff before you hit the road.
Before delving into more detail, also note that from outside, glamping houses look like tents. However, the interior design is much more luxurious. Furthermore, they come in different shapes such as wooden houses, cottage rentals, tented cabins, and so on.
Difference Between Glamping and Camping
Glamping is different from ordinary camping in that glamping offers you a pre-prepared camping site. This means that upon your reservation, the owners of the glamping site arrange the necessary types of equipment for you. This includes the setup of your tent/house.
Also, they offer you a bathroom and kitchen. You also don't need to bring utensils like towels, kitchen utensils, soap, etc. They are all prepared before you arrive. So, maybe only an extra few clothes and a toothbrush will suffice.
Another difference from usual camping is that glamping provides more than one camping option. As we've mentioned above, you can choose a treehouse, a bell tent, a wooden cabin house, a caravan, and many others.
While it's not possible to find amenities like Wifi or air conditioning in conventional camping, many glamping sites offer you these, as well as heating. Washing machines and barbecues are other popular amenities found in these glamping sites.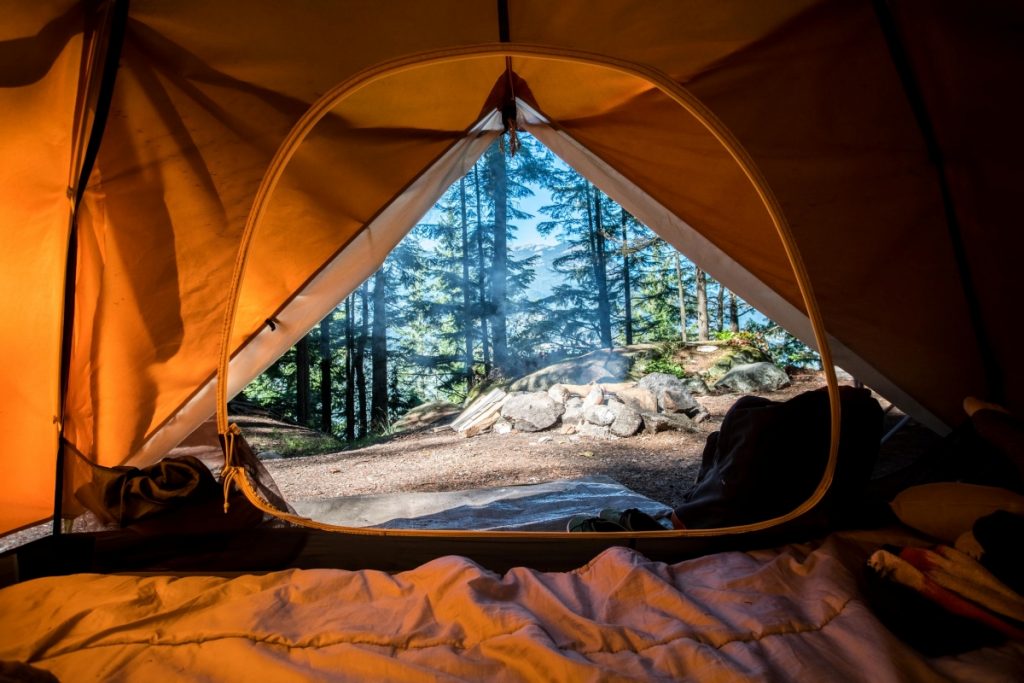 Why You Should Go Glamping
If you don't want to bother yourself with the preparation process of camping but wish to be in nature, glamping is for you. In this way, you can have a luxurious hotel experience in the middle of nature. This also spares much more time for you and the people that accompany you.
Besides all these, Greece is a good option for glamping because of its countless beaches and natural beauties. Imagine combining your island experience with luxurious camping.
Glamping and Its Benefits
Affordability
Greece is an affordable country in many senses. You can see this advantage in glamping sites as well. Furthermore, because there are many options for glamping in various locations, you can choose the most appropriate option for yourself. Prices differ depending on the location and types of accommodation.
Less Work and More Comfort
All the basic amenities will be at your disposal, so you won't take the burden of preparing and considering everything. In many glamping options, a separate kitchen, bathroom, and electricity are all available. Also, you can be advised about which type of tent/house will be better for you, according to the number/age of people coming with you.
As opposed to camping, you won't deal with setting up your tent and so on. All these issues will be dealt with until you arrive at your destination.
Various Options Depending on Your Needs
Unlike traditional camping, glamping is a way more luxurious activity. So, you can consider it as staying in a hotel in nature. Because of its comfort, glamping is suitable for people of different ages. It's appropriate for couples who choose a romantic atmosphere as well as for families with little children. Glamping can also be a good choice for big groups of friends' gatherings. Don't worry about the number of people. Renters organize the number of beds according to the number of people. They also arrange other amenities depending on the number and needs of the customers.
What Are the Types of Glamping?
Glamping has been continuously improving. People now benefit from glamping sites as holiday destinations. Bungalows, treehouses, yurts, and bell tents are among glamping options. The main difference among them is the size and texture of these accommodation types.
You can find a bit more information about these glamping options below.
Bungalows
They are generally single-storey and have dormer windows. They are generally small in size. In Greece, you can find Bungalow houses in Peloponnese, Ionian Islands, Cyclades, Crete, Halkidiki, and Central Greece.
Tents
Tents also have different types such as bell tents and safari tents. Bell tents are very popular in the world. They look like conventional tents we're used to. There is a cotton canvas covering this type of tent. You can find bell tents in different sizes. They're also available to host lots of people inside. You can rent bell tents in Central Greece, Thessaloniki, Eretria, Achaia, and especially in Peloponnese. Their prices range from €35 to €70.
Safari tents are also quite large in size. They are advantageous as their canvas is resistant to weather.
Treehouses
Being made of wood, treehouses can be exciting but at the same time frightening if you have a fear of height. They're situated upon tree trunks and are not resistant to changes of weather much. Their heights may differ from one to the other. Also, it's better to check the amenities inside as their location upon trees may not allow for certain luxuries. Their price range between €55-300 per night.
Caravans
Caravans can be another option for glamping if you want to live such an experience. You can find caravans for rent mainly in Halkidiki, Gythio, and Fthiotida.
Yurts
In general, yurts have a circular structure. From the outside, they look similar to conventional tents. The texture of the coverage is also similar to traditional tents. Also, they're insulated enough to protect you from changes in weather outside.
In fact, yurts come from Central Asia. Mongolians back then used yurts as their main home. Today, you can find them in Greece as well, especially in the Peloponnese area. They're luxurious enough to provide you necessary equipment inside.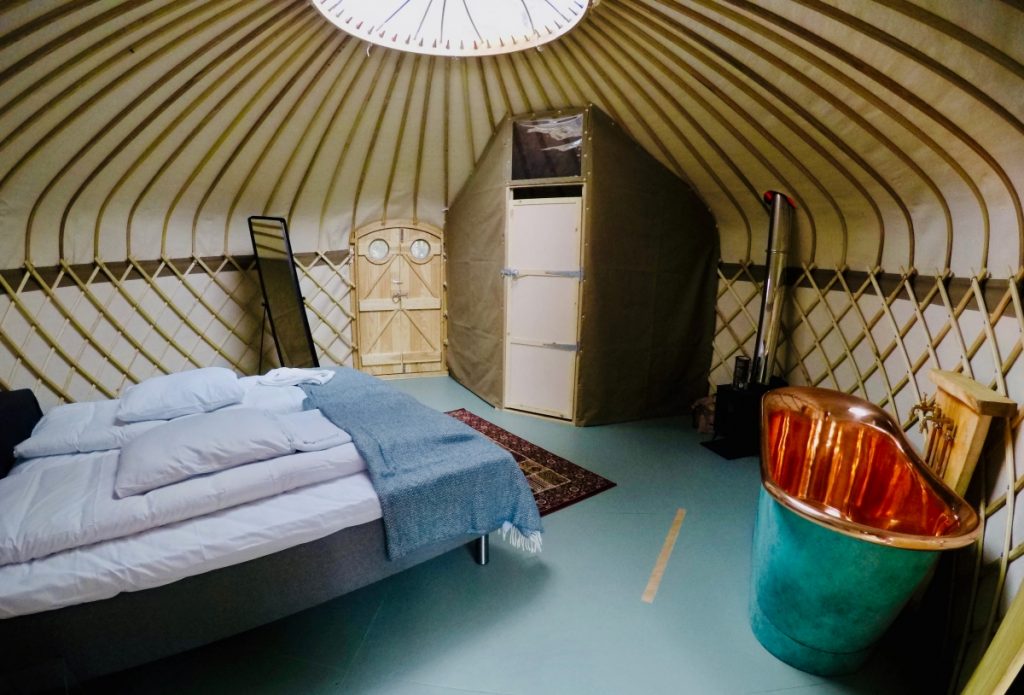 What To Bring When You Go Glamping
It's better to check beforehand what kind of equipment will be inside your accommodation. Also, inquire about the heating/air conditioner, kitchen, and bathroom. In this way, you can pack up your bag accordingly. Other than these, the following may be of help to remind you about the important utensils.
As mentioned above, an extra cloth in case of any change in the weather will keep you protected.
Flashlight, a box of matches, and a lighter. Always carry a flashlight although it's a luxury camping. You may need it when you go away from your tent. In case of unexpected situations, extra matches, or a lighter will save you.
Insect repellants. They may be of great help especially in summer. Don't forget that you're still in nature.
Snacks can be helpful especially if you bring your children with you. They will be sufficient until you can cook your food or find food outside.
Toiletries, towels, and slippers. Although they're generally supplied by the renters, you may prefer to bring your own if you hesitate about the hygiene.
Alcohol and certain beverages. If you prefer a beverage of your choice, it may be better to bring it with you.
Shoes. It's suggested to bring an extra pair of shoes if you plan to hike.
Things To Know Before You Go Glamping
Before you decide on the type of glamping, you need to consider who you go with. If you take little children with you, it's important to prepare the necessary equipment beforehand. These include snacks/food, hand wipes, and so on. If you want to do certain activities like water sports, hiking, riding, or biking, you need to choose the glamping location accordingly.
If you plan to go with your friends and have fun, it may be better to find a location where it's easy to reach a shopping store, a concert/festival or other outdoor activities.
A romantic holiday can be another plan. Fortunately, glamping offers many alternative destinations for this. You can choose a more isolated location and enjoy seclusion with your partner. Watching the sky with stars in the middle of nature is only one activity you can enjoy.
You may find this new setting a bit different considering the sound of nature, birds, and so on. Be prepared for this, let yourself go, and listen to this serenity. You won't find it again in the hustle and bustle of the city center.
If you want your camping to look more like a traditional one, you can choose tents because they look like camping tents. Note that some glamping options provide walls and locks such as treehouses.
If you wonder when to go glamping, mid-seasons like May and October may be better. If you want to go in summer, you'll get overwhelmed because of the very hot weather. Also, when you visit between November and May, you'll see that tourists have already gone, especially from the islands.
Best Glamping Sites in Greece
Although not very close to Athens, you can reach the following sites within around two hours by car.
Messinia, Peloponnese
Messinia is one of the nicest options for glampers near Athens. This site is especially favorable for families with children. Here you can find safari tents as a glamping option. There is Agrikies Country Retreat in this area where a restaurant and a swimming pool are provided for customers. Also, yoga classes are available within this hotel, so to speak. It is also possible to join trips to beaches, and hiking is also available in this area.
Raches Beach in Fthiotida
Fthiotida is another area suitable for glampers. Especially the site around Raches Beach can provide you an enjoyable glamping experience near the sea. Here treehouses, bell tents, canvas tents, and bungalows are available. Events like concerts and theatre plays can also be found in the vicinity. Cycling is another option as well as visiting wineries.
Pavliani
In Pavliani, glamping options like bungalows, caravans, and wooden houses are available. In most of these accommodations, Wi-fi, kitchens with refrigerators, coffeemakers, and other similar similar conveniences are available as a whole.
Other potential destinations include Eretria where you can find great bell tents. The average price per night for these tents starts from €60,00. Argolida is another option where there are bell tents available as they are in Eretria. Daily prices here are similar to that of Eretria.
We've listed some glamping sites in Greece.
Bubble Tents is located in Nea Moudania, a town close to Thessaloniki It has a swimming pool, free parking, and free Wifi. It's 800 m from the Nea Moudania beach.
Glamping Canvas tent in Chania Wild Cretan West is located in Gerani Chanion, a village in Crete. The site offers a garden and a private pool. You'll also get access to a fully equipped kitchenette and a patio.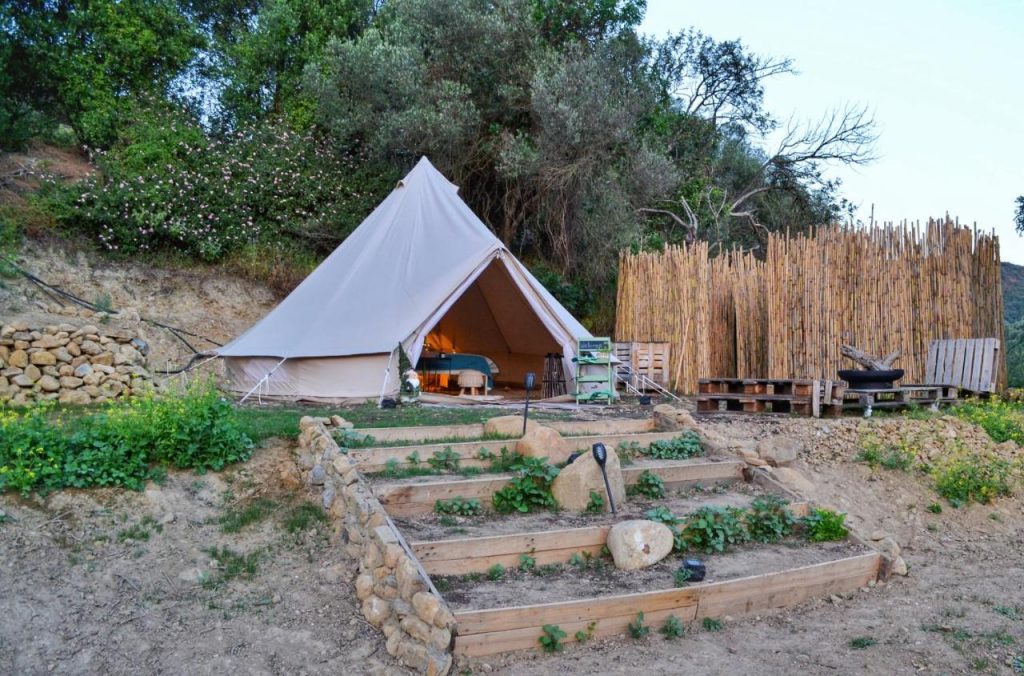 Anthea Ecolodge Milina is located in Milina, in the Pelion peninsula. The site provides a garden and a terrace. The site also offers a fully equipped shared bathroom and free toiletries.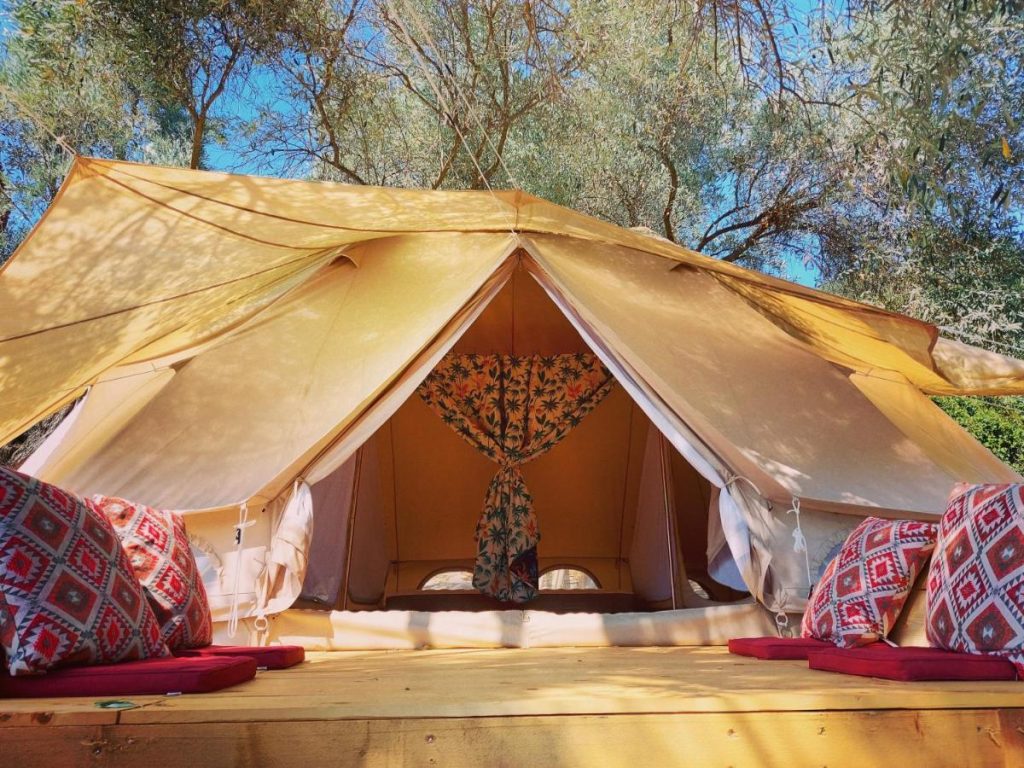 Nisi Glamping is set in Paralia Rachon which is a 3-hour drive from Athens. It's very popular with families as it has a children's playground. They also offer continental breakfast.