Santorini is a group of islands located in the southern part of the Cyclades and the Aegean Sea in Greece. The islands include Thira, Aspronissi, Palea, Thirassia, and Nea Kameni. Greece Santorini underwent a big volcanic eruption in the 17th century BC. As a result of this, a large crater called a caldera emerged. 
Santorini island is also known as Thera in Greek, and it's visited by many people as a holiday destination. The sunsets on this island are also famous and worth seeing. Besides the sunsets, the white-and-blue buildings, historic towns, luxurious hotels, and the landscape are other attractions here. You're sure to enjoy your drink or meal while looking at the amazing views on this island.
This article is prepared to provide a comprehensive guide to the island and highlight the best things to do in Santorini.
Let's start with the island's history.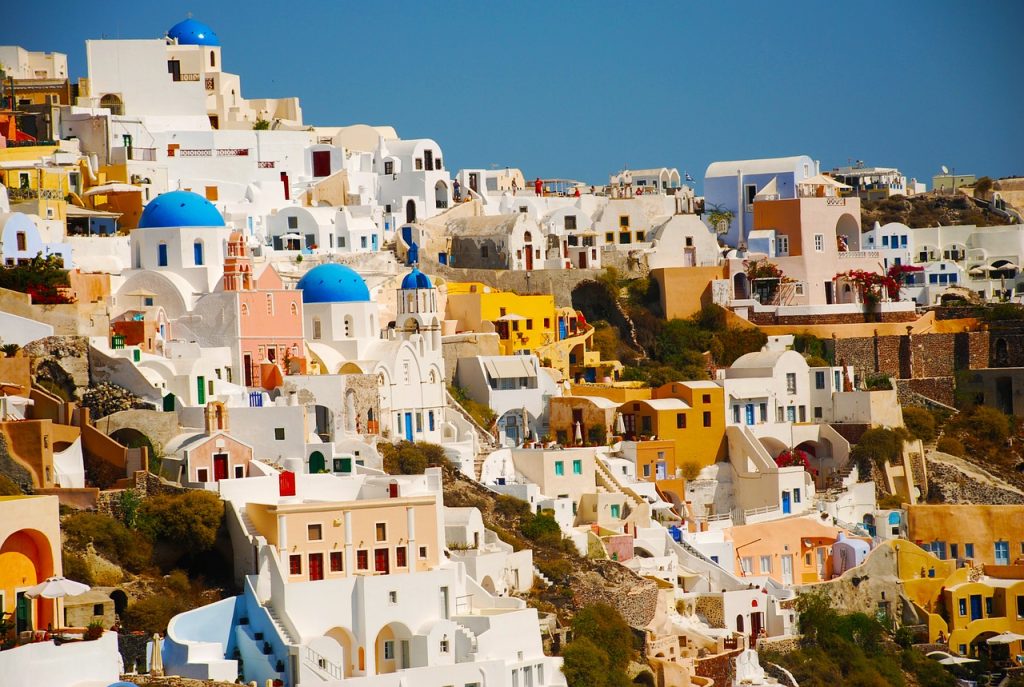 History of Santorini Island
The excavations and the archeologists' notes indicate that people started to live on the island in the Neolithic Period. Similar discoveries also disclosed the ancient Minoan colony's existence in Santorini Greece.
Historical evidence indicates that the Phoenicians started to live on the island around 1300 BC. In around 1100 BC, Lacedaemonians occupied the island. Then, the Phoenician alphabet started to be used around 825 BC. In time, Santorini became an important trade center because of its location.
The island experienced a volcano eruption around the 17th century BC. The eruption led to the sinking of the central part of Santorini. The following earthquakes also ruined some parts of the island.
Another important time in Santorini's history is when the Byzantines ruled the island between 1200 AD and 1579 AD. In that period, the Venetians named the island after a Catholic church called Santa Irini. It has been called Santorini since then.
The island witnessed several wars and battles throughout the years. After a huge earthquake in 1956, people started to abandon the island. After the 1970s, tourists took an interest in Santorini. The island still keeps its fame as a tourist attraction today.
How To Get To Santorini
First of all, where is Santorini? The island is located in the southeast of mainland Greece, and it provides different transportation options. For instance, there are ferries from many islands like Mykonos to Santorini.
You can also arrive at the island by ferry from Athens to Santorini. The ports of Piraeus and Rafina provide such ferries.
Flying by plane is another option to reach the island. There's the Santorini airport (JTR) that provides flights from many countries. Besides Athens, you can find flights from London, Rome, or Frankfurt to Santorini. Flights to Santorini Greece from Athens take around 45 minutes. It's more expensive compared to ferries, but it's a faster option.
The transportation options on the island itself are buses and rental cars. Especially buses are affordable transportation options. You can find car rentals offered by lots of companies as well. For sure, taking a taxi is also among your options.
So, ferries from Santorini to Mykonos, and flights to and from other European cities are all possible in Santorini.
Things to Do and See on Santorini Island
Santorini is full of activities to enjoy and rest assured that you'll definitely spend a great time on this island. You can find the list of attractions and things to do in Santorini below:
Go to Akrotiri: Akrotiri is a historical city that offers the museum of Prehistoric Thera. The wooden bridges are also worth seeing here.
Swim in Santorini beaches: The waters of Santorini come in different colors because of the explosions it experienced in the past. Some of the famous beaches here are Kokkini Paralia (Red Beach), Perivolos, Aspri Paralia (White Beach), Kamari, and Perissa.
Walk from Fira to Oia: Fira is the capital of Santorini, and it offers stunning views like Oia. There's a hiking path between the two areas. While hiking from Fira to Oia, you can also enjoy seeing Prophet Elijah's Church, Chapel of the Cross, and Black Mountain.
Visit the museums in Fira: You can go to the Archaeological Museum of Thera and the Museum of Prehistoric Thera. The Church of St. John the Theologian is another beautiful building to see in Fira.
Watch the sunset at Oia Castle: From the castle, you'll see a picture-perfect view of almost all of Oia.
Taste the food in Santorini: Thanks to the Santorini weather and soil, you can try the tasty cuisine here. Some of the specialties of the island include fava beans, white eggplant, and sun-dried cherry tomatoes. You can find a combination of tradition and modernity in the cuisine. You can also enroll in classes to learn how to cook certain Santorini foods.
Scuba diving: There are some areas where you can experience scuba diving in Santorini's great volcanic waters. Palia Kameni, the shipwreck at Taxiarchis, and Cape Tripiti are among them.
Go to the vineyards: Vinsanto is a type of wine that you can try when you're in Santorini. Its history is more than 3000 years. Besides Vinsanto, there are many other delicious wines waiting for you to taste.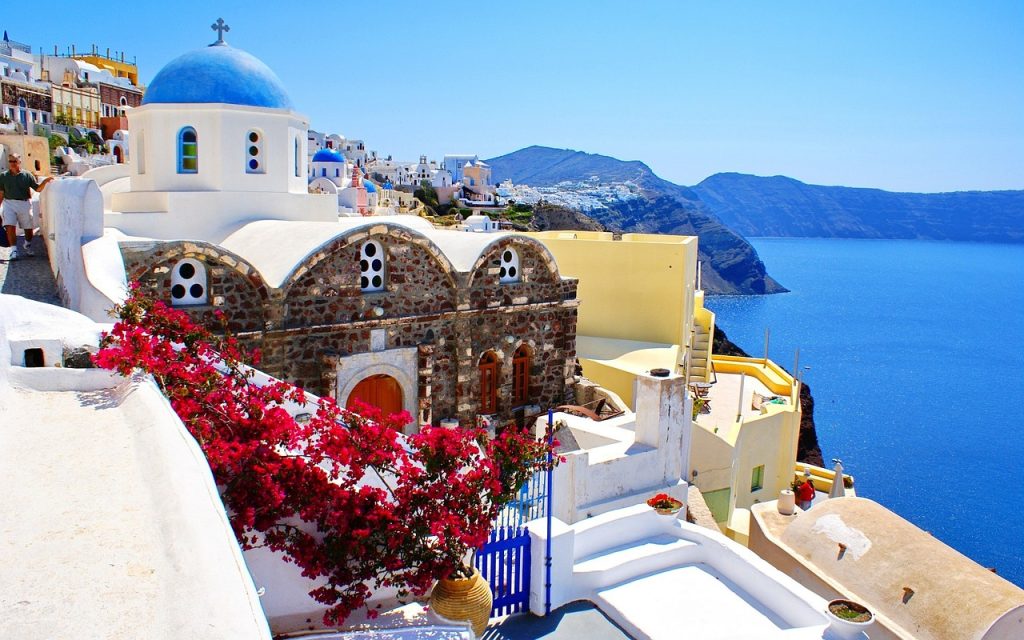 Accommodation and Food on Santorini Island
Santorini is full of hotels and suites that can meet your needs in every possible way. Both affordable and luxury hotels in Santorini Greece are available throughout the island. You can also find family-friendly resorts as well. Renting villas, and staying in boutique hotels are other options, too. The following list of hotels are popular in Santorini:
Grace Hotel,
Katikies,
Astra, and
Art Maison.
There are also many restaurants, cafes, and bars throughout the island. Taverns also offer a unique experience especially if they're located by the sea. You can go to such tavernas in Akrotiri, Kamari, Perivolos, and Perissa.
Some of the best restaurants in Santorini are:
Selene in Fira,
Lycabettus in Oia,
Mr. E in Perivolos,
Lefkes in Finikia, and
Varoulko in Imerovigli.
If you want a good cafe in Santorini, you can choose to go to 218 Cafe in Oia, Irinis's cafe in Fira, or Chilli in Perivolos. All of them and many more offer beautiful views of Santorini waters.
Many clubs and bars are open until very late hours. Some of them are open even until morning. Most of the bars and clubs are located in Fira. Some of the best bars and clubs in Santorini are:
Enigma,
Koo,
Franco's,
Casablanca Soul,
Volkan on the Rocks,
Vineyart, and
Fino.
Conclusion
In short, Santorini is a very popular island for many tourists thanks to the many activities and landmarks it offers. You can easily arrive at this Greek island and enjoy the food, the sea, and the nightlife to the fullest. Summer is the season when the island is most crowded. If you want to have a more tranquil holiday, you may consider coming here off-season. On your next trip, you can visit the island and witness this great experience. 
FAQ
What is the best time to visit Santorini?
The best time to visit Santorini is from April to October when the weather is warm and sunny. July and August are the busiest months, with the highest temperatures and most tourists. If you want to avoid the crowds and enjoy more moderate temperatures, you might consider visiting in May, June, or September.
How do I get to Santorini?
The main airport in Santorini is located in the town of Kamari, and there are regular flights from Athens and other Greek islands. You can also reach Santorini by ferry from Piraeus (the port of Athens) or from other islands in the Cyclades.
What are the most popular things to do in Santorini?
Santorini is known for its stunning beaches, beautiful sunsets, and iconic blue-domed buildings. Some popular activities on the island include visiting the ancient city of Akrotiri, exploring the island's many wineries, and relaxing on the beach. Other popular tourist attractions include the Santorini Caldera, the Archaeological Museum, and the Museum of Prehistoric Thera.
Is Santorini a good destination for families?
Santorini can be a great destination for families, with plenty of kid-friendly activities and attractions to enjoy. The island has several beautiful beaches with shallow waters, and there are also several water sports centers where you can rent equipment for activities like snorkeling and kayaking. In addition, there are several family-friendly restaurants and cafes that serve a variety of dishes.
Can I find budget accommodation in Santorini?
There are many budget accommodation options in Santorini, including hostels, guest houses, and small hotels. These types of accommodations can be a more affordable option for travelers on a budget. You can also find vacation rentals, such as apartments and villas, which can be a good option for families or groups of travelers.
What is the local currency in Santorini?
The local currency in Santorini is the Euro (EUR). You can exchange money at banks, currency exchange offices, and most large hotels. Credit cards are widely accepted in Santorini, and ATMs can be found in most towns and villages on the island.
Is it safe to travel to Santorini?
Santorini is generally a safe destination for travelers, and crime rates are low. However, it is always a good idea to take basic precautions to protect your personal safety, such as keeping an eye on your belongings and avoiding walking alone at night in unfamiliar areas.
Is Santorini suitable for travelers with mobility issues?
Santorini can be challenging for travelers with mobility issues due to the island's hilly terrain and the fact that many buildings have stairs. However, there are several hotels and apartments that have been designed to be accessible for travelers with disabilities, and some tour operators offer special services for travelers with mobility issues. It is always a good idea to research your options in advance and contact the relevant authorities or organizations for more information.