Greece is a beautiful destination for many visitors throughout the world. Besides the weather and culture, Greek islands are also essential factors in Greece's popularity.
There are more than 6,000 islands and islets that are uninhabited in Greece. Around 230 Greece islands are inhabited, and you can stay there. You can also visit the uninhabited islands on a day trip. You're sure to enjoy the stunning beaches on these islands in Greece.
You can find different types of islands in Greece, and see some of them below.
You can find in this article:
Let's start with Santorini.Let's start with Santorini.
Santorini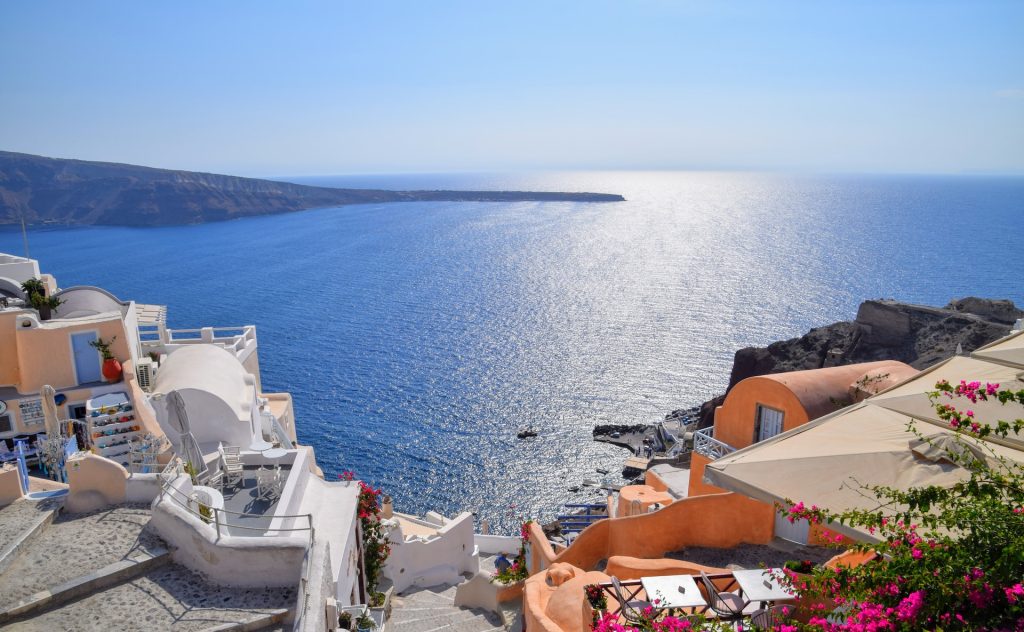 Santorini is located 200 kilometers southeast of Greece. You'll fall in love with the whitewashed buildings and the stunning sunset on this best Greek island. Here in Santorini, the summers are humid and warm, and the winters are cool and long.
You can easily reach this island if you come from abroad. There's Thira Airport here, and it has both international and domestic flights. Direct flights are available from many countries. It's also possible to use ferries to arrive at Santorini. There are various connections from Santorini to the mainland, other islands, and the island in the Aegean Sea.
There are great activities to do in Santorini. One of them is to go and see the Wine Museum. You can both taste the wines and learn more about the wine-making process. Not to mention that Santorini is famous for its wines throughout the country. Watching the sunset at Oia is another popular activity to do in Santorini. There's also the Venetian castle where you see ruins on a hill. The view from this castle is also noteworthy.
There are various luxury suites and hotels to stay at in Santorini.
Corfu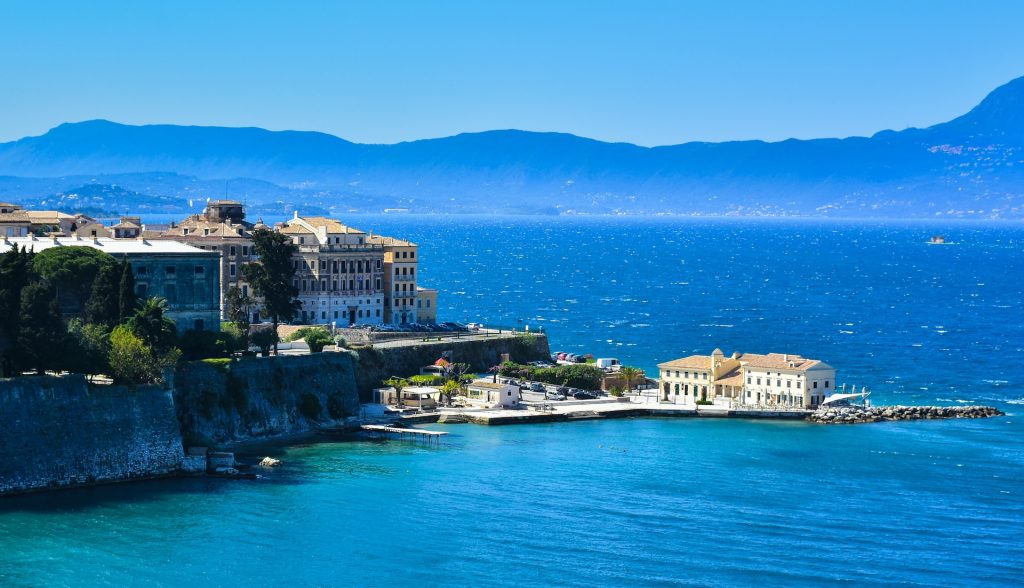 One of the best islands in Greece, Corfu, is located in western Greece. It's also a very popular island in Greece, so it can be crowded during the holiday season. The Venetian architecture and the royal palaces are some of the attractions here. The Corfu Town on this Greece island is also a UNESCO World Heritage Site. While the winters here are cold and long, summers are hot and short. Usually, the yearly average temperature is between 41°F and 90°F in Corfu.
Arriving at Corfu is not difficult because there's Corfu International Airport. You can easily find flights from many European cities to this island. The airport is also very close to Corfu Town. It takes 30 minutes to walk from Corfu Town. Regular ferries are also available.
So, what are the things to do in Corfu? First of all, you'll find great museums and houses protected by UNESCO. Enjoying a traditional Greek meal before you leave the island is also a great idea. Other activities are visiting Cape Drastis, Vlacherna Monastery, and seeing the canal d'Amour. Especially Cape Drastis is a famous beach in Corfu. You can even take a day trip to Albania by ferry.
Corfu provides beach resorts, apart-hotels, hotels, and apartments for rent. Airbnb is also an option for accommodation for those who visit Greece.
Crete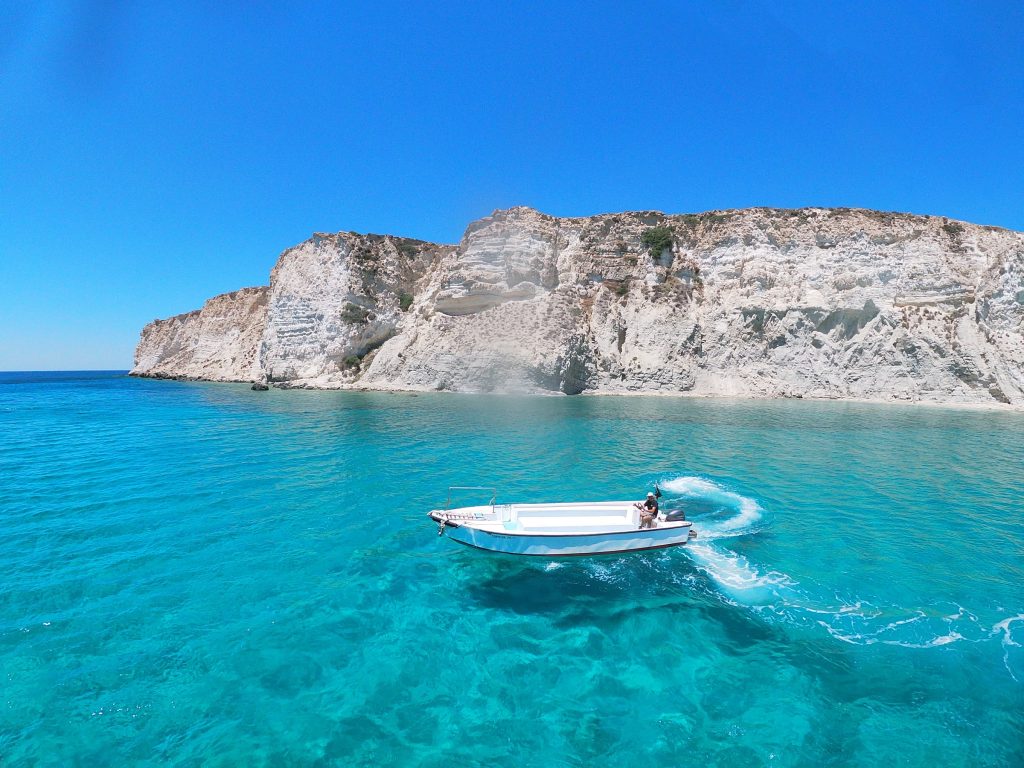 Among other Greek islands to visit, Crete is the largest one. It's also the fifth-largest island in the Mediterranean Sea. Crete is around 160 kilometers south of the mainland. There are many things to enjoy here including the beaches, landscape, and history. The island has a temperate climate. It's hot and dry in the summer and mild and rainy in the winter. Different regions on the island experience different climate conditions. The east and west, the coastal and mountainous areas provide different temperatures.
Like the other best Greek islands above, Crete has an international airport as well. You can reach the island from major European cities. Also, you can reach other islands by ferry from here.
In Crete, you can enjoy the beaches and the cuisine. The valleys and mountainscapes are worth seeing as well. Nightlife in Crete is also lively and dynamic. So, you're sure to enjoy every minute on this island. Other activities to do include seeing Spinalonga Island, the Greek village of Loutro nearby, and Balos Lagoon. Samaria Gorge National Park is another attraction to see as well. There's also Heraklion Archaeological Museum here. You can find a lot about Greece's history in this museum. It has several Cretan artifacts and exhibitions.
Crete has many luxury resorts and five-star hotels for your Greek vacation.
Mykonos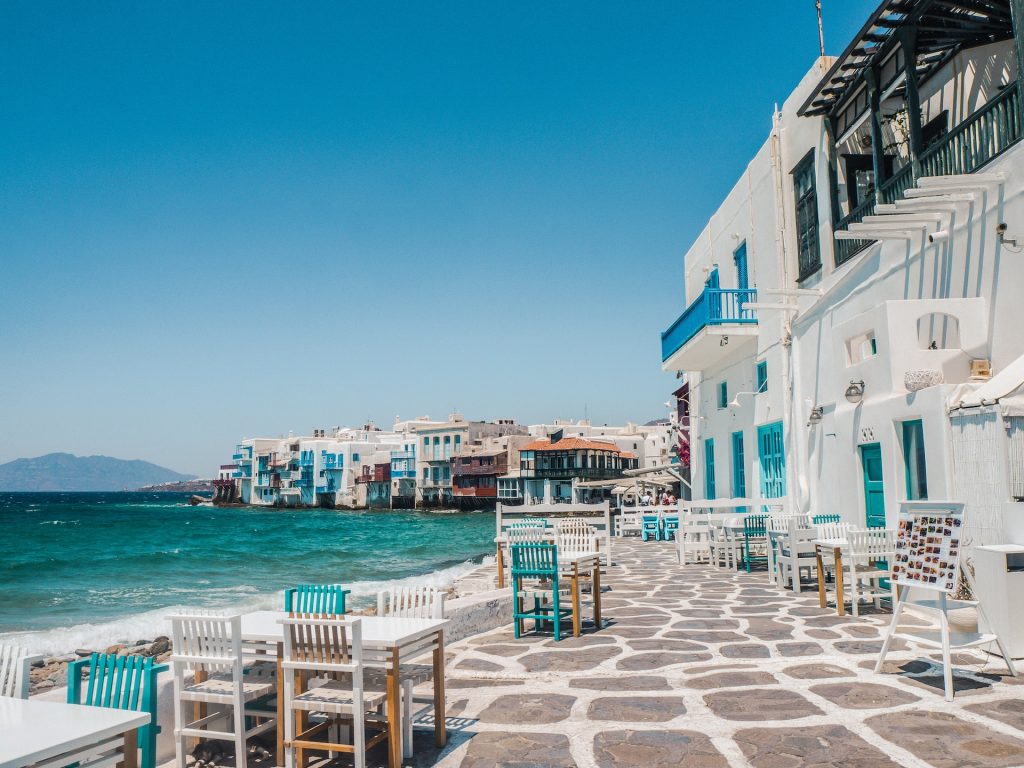 For many people, Mykonos is the most beautiful island in Greece. It's located on the north of the Cycladic island group. In Mykonos, the winters are long and cold, and the summers are warm and arid. It's windy throughout the year.
The island has an airport called Mykonos Airport, and there are regular flights available from Europe. Like many other Greece islands to visit, Mykonos provides regular ferries from the islands close to it.
The island is very famous for its gorgeous beaches and crazy nightlife. You can easily see famous DJs playing and dance clubs throughout the island.
Besides the nightlife, you can enjoy visiting the famous Paraportiani Church, and Mykonos Windmills. It's beautiful to see the windmills, especially during the sunset. There's also an area called Little Venice in Mykonos. Here, you see the whitewashed houses that see the ocean, and great colored balconies. It's also worth visiting the monastery of Panagia Tourliani.
In Mykonos, you can find several resorts, hotels, and suits that can fit your needs.
Rhodes
Located in the northeast of Crete, Rhodes is among the most beautiful Greek islands. In Rhodes, summers are hot and dry, and winters are mild. July is the hottest month in Rhodes. The island takes its name from the Greek goddess Rhode, daughter of Poseidon.
You can arrive at Rhodes by plane, and there's Rhodes Diagoras International Airport here. Regular ferries are also available to travel between the mainland and the closeDodecanese islands.
You can enjoy your time in Rhodes by going to the village of Lindos to see the Acropolis and other beautiful sites. Visiting Simi Island nearby can also enrich your experience here. Going to Rodini Park and Street of Knights of Rhodes is another activity you can enjoy in Rhodes. The latter has a cobbled street, and you can have a few drinks here.
There are both affordable and luxury hotels to stay in on this most beautiful Greek island.
Summary of the Best Greek Islands To Visit
There you have it. You now have answers to which Greek islands to visit. All of these islands offer you an unforgettable experience with their history and landscape. They are easy to reach from the mainland and from other islands thanks to ferries and planes.
Recommendations for Further Exploration in Greece
Greece is a beautiful country that offers a Mediterranean climate, a friendly culture, and lots of beaches. Besides all these, living in Greece does not cost you much. Most of the basic costs are quite affordable. Food and rent are only two examples.
In addition to the islands listed above, you can visit the following cities and areas when you come to Greece:
Athens
Thessaloniki
Naxos
Calamata, and
Meteora.
FAQ
What is the best Greek island for beaches?
Many islands in Greece have beautiful and stunning beaches. Crete, Santorini, and Corfu are among the best Greek islands to visit thanks to the beaches.
Which island should I visit in Greece?
You may be curious about which Greek island to visit, and it's quite normal. There are many islands that Greece offers tourists and locals. You may start with the islands listed above. They're in Greece's most beautiful islands list.
What are the best Greek islands to visit?
There are many beautiful Greek islands to choose from, but some popular options include Santorini, Mykonos, Crete, and Rhodes. These islands offer a mix of stunning beaches, ancient ruins, vibrant nightlife, and delicious cuisine.
What is the best time of year to visit the Greek islands?
The best time to visit the Greek islands depends on your preferences and what you want to do while you're there. If you want to experience the busiest and most vibrant atmosphere, the summer months of June through August are the best time to visit. If you prefer a more laid-back and peaceful vacation, the spring or fall months may be a better option.
How do I get to the Greek islands?
The most common way to get to the Greek islands is by ferry or plane. Ferries operate between the mainland and the islands and are a good option if you want to explore multiple islands. There are also domestic flights available between some of the larger islands, as well as international flights to the islands of Crete and Rhodes.
What should I pack for a trip to the Greek islands?
When packing for a trip to the Greek islands, be sure to bring lightweight and breathable clothing, as the weather can be quite warm. Sunscreen, sunglasses, and a hat are also essential to protect yourself from the sun. You'll also want to bring comfortable walking shoes for exploring the islands, and a swimsuit for enjoying the beaches.
Are there any health concerns to be aware of when visiting the Greek islands?
In general, the Greek islands are relatively safe and there are no major health concerns to be aware of. However, it's always a good idea to take basic precautions such as using insect repellent to protect against mosquito bites and staying hydrated in hot weather. If you have any specific health concerns or needs, it's a good idea to consult with your healthcare provider before your trip.

What are the must-see attractions on Greek islands?
There is no shortage of amazing things to see and do on the Greek Islands! From ancient archaeological sites to beautiful natural landscapes, there's something for everyone in this incredible region. Some must-see attractions include the Acropolis in Athens, The Minoan Palace of Knossos on Crete, the Tomb of King Agamemnon at Mycenae, and the ruins of Delphi. Other highlights include exploring the stunning beaches and coves scattered around the islands, snorkeling, or diving.