Mykonos is one of the Cyclades Islands of Greece, and it's a hotspot for tourists from all around the world. It's located in the Aegean Sea, in the north of the Cycladic islands.
Myconos island Greece is known for its stunning beaches, dynamic nightlife, award-winning restaurants, and much more. It also offers you an opportunity to know about the traditions of its beautiful villages. The archaeological sites are another attraction point for visitors.
In this article, you can find more about what to do in Mykonos Greece, accommodation, transportation options, and where to eat.
Let's begin with the history of the island.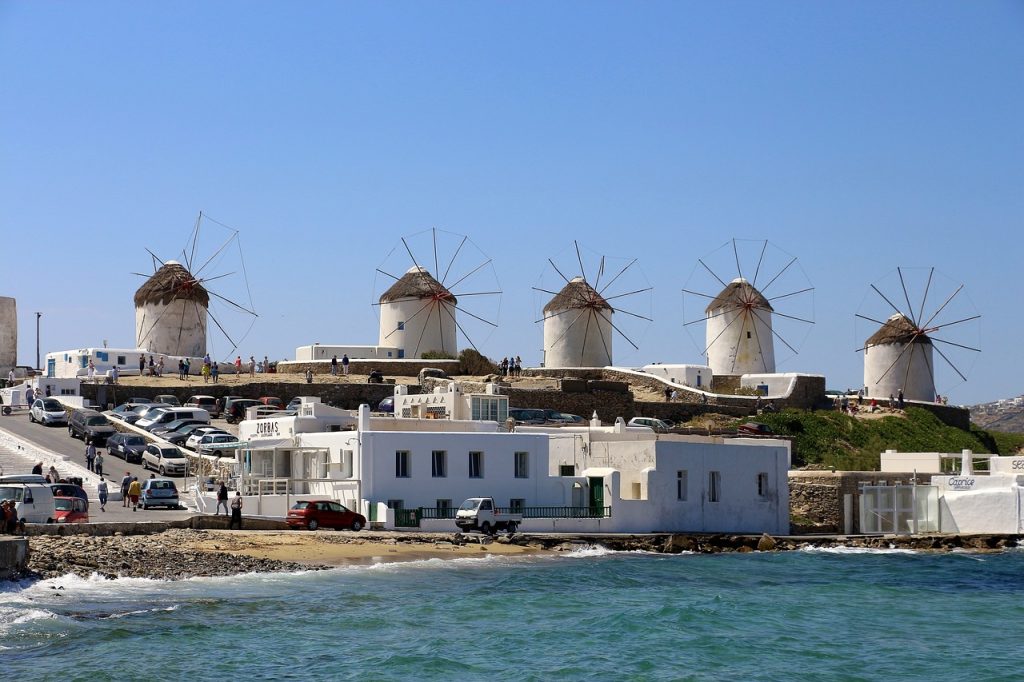 History of Mykonos Island
The name and meaning of Mykonos come from the son of the King of Delos, Mykonos. The myth says that Hercules fought the Giants, and killed them. After that, Hercules threw them into the sea, then they were petrified. In time, they formed Mykonos island by being turned into big rocks.
According to the excavations, the Carians were the first inhabitants of Mykonos. Throughout its history, the island was ruled by Romans, Venetians, and Ottoman Turks. After the Greek War of Independence, it belonged to Greece.
Then, it showed economic development, especially because of textiles, and then tourism. In the early 1960s, the tourism sector began to develop. Artists showed great interest in the island as well. It's still a popular destination for visitors from all around the world. So, today's Mykonos meaning is fun for many people.
How To Get to Mykonos
If you're planning a Mykonos travel, knowing all the transportation options will be useful. You can reach the island by ferry and by plane. There's an international airport in Mykonos, and flights from European cities and Athens are available. The flight between Athens and Mykonos takes around 50 minutes.
Ferries are available to reach the island from both Athens and other islands. The ferry from Athens to Mykonos departs from the ports of Piraeus and Rafina. From Piraeus to Mykonos, the travel takes around 4,5 hours with a conventional ferry. With a high-speed ferry, your trip to Mykonos takes around 2,5 hours.
The ports of Thessaloniki and Rafina provide ferries to Mykonos as well. Also, there's a ferry from Mykonos to Santorini, too.
You can find frequent bus services within the island. Also, renting a car from rental companies is another option to travel on the island.
Things to Do and See on Mykonos Island
You can enjoy spending your time in Mykonos by joining many activities including water sports. Beaches on the island are also diverse and all of them provide exciting experiences on your Mykonos trip.
Let's find out the best things to do in Mykonos in the following list:
Enjoy the beaches: Mykonos beaches are plentiful and they're available for water sports as well. Super Paradise and Platis Gialos are some of the popular beaches here. Great parties are held on these beaches. In total, there are 25 beaches here. If you're into beach parties, you can also go to Paraga and Psarou. For water sports, you may consider visiting Platys Gialos and Kalafatis. Myrsine and Fokos, on the other hand, provide seclusion and tranquility.
Do water sports: If you're interested in water sports, you can visit the Windsurf Centre Mykonos located at Kalafatis Beach. You can take windsurfing lessons as well. Agios Ioannis is also a nice destination for windsurfing. Another alternative is heading to Platys Gialos Watersports for wakeboarding, flyboarding, and wakeskating.
Diving is another option: Whether you're a beginner or an advanced diver, you'll absolutely enjoy the experience. You can go to Paradise Beach, Lia Beach, and Kalafatis Beach where diving operators are located. If you're in Santorini, you can easily hop on a ferry from Santorini to Mykonos to enjoy the diving experience.
Visit historical sites: You can easily go to Delos island where Apollo and Aphrodite are said to be born. It's a UNESCO World Heritage site as well as a well-preserved archaeological site. You can reach Delos by boat from the pier in Hora. Paraportiani Church is another historical beauty you can see. In fact, it's a set of five different churches. What's more, the oldest building dates back to the 14th century.
Watch the windmills: The windy Mykonos weather enabled the windmills to crush cereals and wheat. Although they're not used today, the windmills are quite beautiful to the eye.
Watch the sunset: Sunset in Mykonos is very attractive to see especially if you're in one of the bars of Little Venice in Hora. Kato Mili and Agios Ioannis beach are other locations to watch the gorgeous sunset view.
Go swimming: Besides the 25 beaches, infinity pools at the hotels are other alternatives to going swimming.
Visit Hora: Hora is located on the west of the island and functions as the capital of Mykonos. Here in Hora, you can walk around the streets, go to restaurants, and see the glorious churches. Don't forget to visit The Archaeological Museum of Mykonos and the Aegean Maritime Museum. There's also an open-air cinema called Cine Manto. If you're into art galleries, visit Rarity Gallery and Art and Soul, too.
Enjoy the nightlife: Summer months are the liveliest time of the year in Mykonos. There are many clubs including beach clubs and LGBTQ-friendly clubs, especially in Hora. Cavo Paradiso, Super Paradise, and Paradise Club are beach clubs that provide DJs from both Greece and other countries. For a more tranquil night, you can go to the Scandinavian Bar, the Queen of Mykonos, or Galleraki.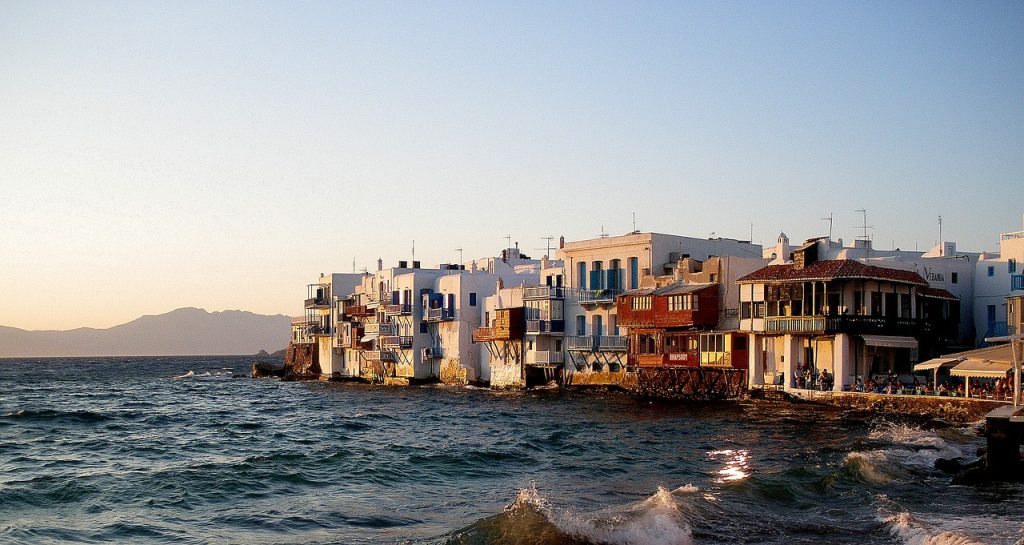 Accommodation and Food on Mykonos Island
Accommodation options are various on this island: seaside resorts, luxury or affordable Mykonos hotels, villas, and suites are all at your service.
If you decide to stay at a beachfront boutique hotel, you can enjoy infinity pools, terraces, and whitewashed buildings. If you want to stay at a more affordable place, you may consider staying at Paraga Beach Hostel, MyCocoon Hostel, or Hotel Matina. Other popular hotels include Mykonos Blu, Bill & Coo, Cavo Tagoo, and Mykonos Blanc.
Like accommodation options, Mykonos restaurant options are also various here. You can easily find a place to eat or drink anywhere on the island. Hora is where most of these places are located. They get busy, especially after sunset. The food in Mykonos is so delicious that there's even a restaurant called Mykonos Grill in Athens.
Find the list of some of the best restaurants below:
M-Eating
Matsuhisa
Coo
Blue Myth
Hippie Fish
Jackie O Seaside, and
Kastro's.
Many of the bars are located along the beach. Some of the best ones include Nammos, Jackie O', Paradise, Tropicana, and Alley.
Conclusion
So, you now know many things about the island like the history, things to do, and hotels in Mykonos Greece. It's a great island to stay on or even for a one-day visit.
Note that the island gets most crowded from mid-June until mid-September. If you wish to have a more personal experience, you can come to the island either before June or after September. Also, accommodation is more affordable during the off-season. Mykonos population is always welcoming new guests!
FAQ
What is the best time to visit Mykonos?
The best time to visit Mykonos depends on your preferences. If you want to enjoy warm weather and fewer crowds, you might consider visiting in the shoulder seasons of April to May or September to October. If you prefer hot weather and more vibrant nightlife, you might visit in the peak summer months of June to August.
How do I get to Mykonos?
Mykonos can be reached by plane or by ferry. There is an airport on the island, with regular flights from Athens and other Greek islands. You can also reach Mykonos by ferry from Piraeus (the port of Athens) or from other islands in the Cyclades.
What are the most popular things to do on Mykonos?
Mykonos is known for its beautiful beaches, vibrant nightlife, and iconic windmills. Some popular activities on the island include visiting the island's many beaches, such as Paradise Beach and Super Paradise Beach, exploring the island's charming old town, and visiting the Mykonos Archaeological Museum. Other popular tourist attractions include the Mykonos Windmills, the Church of Panagia Paraportiani, and the Little Venice neighborhood.
Is Mykonos a good destination for families?
Mykonos can be a great destination for families, with plenty of kid-friendly activities and attractions to enjoy. The island has several beautiful beaches with shallow waters, and there are also several water sports centers where you can rent equipment for activities like snorkeling and kayaking. In addition, there are several family-friendly restaurants and cafes that serve a variety of dishes.
Can I find budget accommodation on Mykonos?
There are many budget accommodation options on Mykonos, including hostels, guest houses, and small hotels. These types of accommodations can be a more affordable option for travelers on a budget. You can also find vacation rentals, such as apartments and villas, which can be a good option for families or groups of travelers.
What is the local currency in Mykonos?
The local currency in Mykonos is the Euro (EUR). You can exchange money at banks, currency exchange offices, and most large hotels. Credit cards are widely accepted in Mykonos, and ATMs can be found in most towns and villages on the island.
Is it safe to travel to Mykonos?
Mykonos is generally a safe destination for travelers, and crime rates are low. However, it is always a good idea to take basic precautions to protect your personal safety, such as keeping an eye on your belongings and avoiding walking alone at night in unfamiliar areas.
Is Mykonos suitable for travelers with mobility issues?
Mykonos can be challenging for travelers with mobility issues due to the island's hilly terrain and the fact that many buildings have stairs. However, there are several hotels and apartments that have been designed to be accessible for travelers with disabilities, and some tour operators offer special services for travelers with mobility issues. It is always a good idea to research your options in advance and contact the relevant authorities or organizations for more information.
What is the nightlife like in Mykonos?
Mykonos is known for its vibrant nightlife, with a variety of clubs, bars, and restaurants that stay open late. The island is popular with tourists, and there is a wide range of options to suit different tastes, from laid-back beach bars